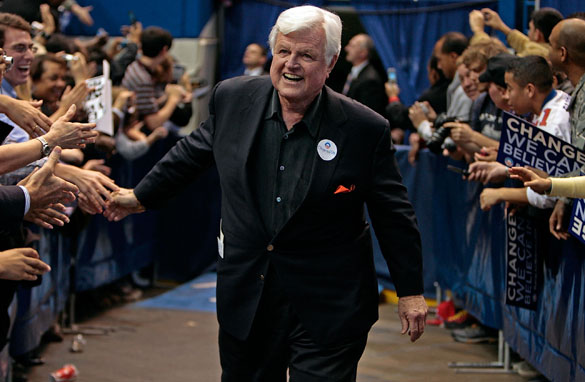 (PHOTO CREDIT: GETTY IMAGES)
WASHINGTON (CNN) - President Bush and several of Sen. Ted Kennedy's colleagues on Capitol Hill are expressing support for the Massachusetts Democrat following the news doctors have found a malignant tumor in his brain.
Bush said Kennedy is a man of "tremendous courage."
"Ted Kennedy is a man of tremendous courage, remarkable strength, and powerful spirit," he said. "Our thoughts are with Senator Kennedy and his family during this difficult period. We join our fellow Americans in praying for his full recovery."
All three White House hopefuls praised Kennedy, calling him a Senate icon. Sen. Barack Obama, the front-runner for the Democratic nomination for president, told CNN that the news about Kennedy is "heartbreaking."
"I would not be sitting here as a presidential candidate were it not for some of the battles he fought as a senator - he battled for voting rights and civil rights when I was a child. I stand on his shoulders," Obama said. (Related video: Watch Sen. Obama discuss Kennedy.)
Hillary Clinton issued a statement saying, "Ted Kennedy's courage and resolve are unmatched, and they have made him one of the greatest legislators in Senate history. Our thoughts are with him and Vicki and we are praying for a quick and full recovery." (Related video: Watch Sen. Clinton on Kennedy.)
Sen. John McCain, an Arizona Republican who is the GOP's presumptive nominee for president, said: "Our thoughts and prayers go out to his family and to him. We hope and pray that they will be able to treat it and that he will experience a full recovery."
Speaking in Florida aboard his campaign bus, the Straight Talk Express, he added: "I have described Ted Kennedy as the last lion in the Senate. And I have held that view because he remains the single most effective member of the Senate." (Related video: Watch Sen. McCain on Kennedy.)
Senate Majority Leader Harry Reid said, "The thoughts and prayers of the entire Senate family are with Ted and the Kennedy family. We are not sure when he will return to the Senate, but we all look forward to his recovery. Millions of Americans have benefited from the work of Ted Kennedy, and I know he's not done yet." (Related video: Watch Sens. Reid, Dodd, and Kerry on Kennedy.)
House Speaker Nancy Pelosi called Kennedy a "fighter."
"I know that that fighting spirit will hold him in good stead in the challenge that he faces now," she told reporters. "I know I speak for all of my colleagues when I say that our prayers and thoughts and good wishes are with Senator Kennedy, with his wife Vicky, with our colleague Patrick, his son, and with the entire Kennedy family."  (Related video: Watch Pelosi react to Kennedy's diagnosis)
Sen. Dick Durbin, Democrat of Illinois, another close friend of Kennedy, spoke quietly on his cell phone just outside the lunch where Senate Democrats learned of the news. He looked emotional when he hung up and told a reporter, "I can't say anything."
He later released a statement saying, "Ted Kennedy has spent his life caring for those in need. Now it's time for those who love Ted and his family to care for them and join in prayer to give them strength."
Sen. Kent Conrad, a North Dakota Democrat, predicted if anyone could overcome the illness, Kennedy would. "Look what he's been through in his life," he said.
New Jersey Democratic Sen. Frank Lautenberg said, "Ted Kennedy makes the Senate the place that it is, and has for so many years."
Sen. Patty Murray, a Washington Democrat, described Kennedy as a "personal mentor" and said: "Senator Kennedy approaches every obstacle with tremendous courage, poise and resolve. And I know his tremendous heart and spirit will prevail now."
Related video: Watch Sen. Mitch McConnell discuss Sen. Kennedy
Related video: Sen. Specter: Kennedy diagnosis 'devastating news'
Related video: Watch Sens. Durbin, Warner, Specter, and Leahy on Kennedy
Related video: Sen. Byrd: 'distraught and shaken' by Kennedy diagnosis
Related video: Watch Sen. Kerry on Kennedy