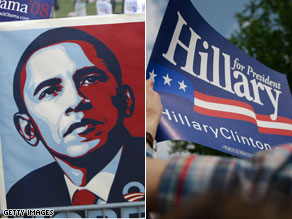 (CNN) - The vast majority of Hillary Clinton supporters in Kentucky are not willing to support Barack Obama should he win the party's nomination, a sign of the continuing division in the Democratic Party as the primary race comes to a close.
According to the just released exit polls, only 33 percent of Clinton backers said they would vote for Obama should he be the party's nominee. That compares to 71 percent of Obama supporters who say they are willing to support Clinton if she wins the nomination.
Those numbers are even worse for Obama than in West Virginia one week ago, where 36 percent of Clinton voters said they would back Barack Obama in fall.
As for the Clinton backers in Kentucky, 41 percent of them say they will back McCain if Obama is the Democratic nominee, 23 percent said they won't vote at all, and 3 percent said they would vote for other candidates.
Among Obama supporters in Kentucky, 14 percent said they would back McCain, 11 percent said they would not vote in the general election, and 4 percent said they would vote for other candidates.