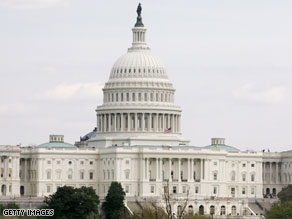 (CNN) - Senate Democrats and Republicans were in their weekly closed policy lunches in the Capitol when the news broke about Sen. Ted Kennedy. Majority Leader Reid announced the news to his Democratic colleagues. The wind was taken out of the room, said one senator. There was "stunned silence," said another.
Capitol police officers and Senate staffers gathered around TVs just off the Senate floor and watched the breaking news on CNN.
Kennedy friend Sen. John Kerry, D-Massachusetts, arrived late and entered a back door to the lunch. He looked drained. He declined to comment about the news except to nod yes when asked if he had spoken to Kennedy's family.
Sen. Dick Durbin, D-Iillinois another close friend, spoke quietly on his cell phone just outside the lunch. He looked emotional when he hung up and told a reporter, "I can't say anything," as he returned to the lunch.
Sen. Kent Conrad, D-North Dakota, predicted if anyone could overcome the illness Kennedy would. "Look what he's been through in his life," Conrad said.
Sen. Frank Lautenberg D-New Jersey, said "Ted Kennedy makes the Senate the place that it is and has for so many years."