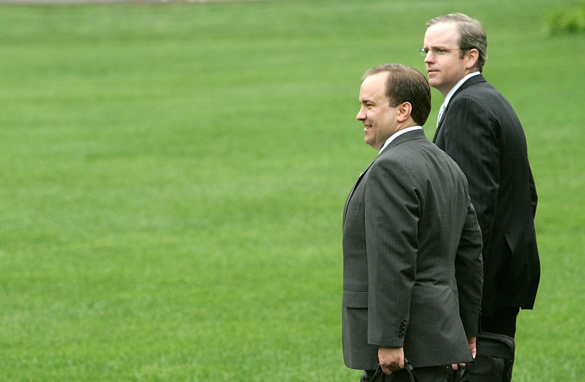 McClellan and Bartlett worked closely together in the White House. (Getty Images)

Watch Dan Bartlett respond to McClellan at 4 p.m. ET on The Situation Room
(CNN) - Former White House counselor Dan Bartlett lashed out at Scott McClellan in a telephone interview Wednesday, saying the allegations that the media was soft on the White House are "total crap," adding that advisers of President Bush are "bewildered and puzzled" by the allegations in McClellan's new book.
"It's almost like we're witnessing an out-of-body experience," Bartlett said of McClellan. "We're hearing from a completely different person we didn't have any insight into."
Bartlett added that intimates of the President feel McClellan has violated his trust. "Part of the role of being a trusted adviser is to honor that trust," said Bartlett. "It's not your place now to go out" and criticize the President like this.
"What did he really believe when he was serving as press secretary?" Bartlett asked.
While he said McClellan himself has to "answer as to motive" for writing the book now, Bartlett said, "I do question his judgment."
Bartlett said the bewilderment stems from "Scott's decision to publicly air these deep misgivings he's never shared privately or publicly" with fellow Bush insiders. "To do it now, through a book, is a mistake," he added.
Bartlett asserted that McClellan did not play a major role in key events, noting that the former aide was serving as deputy press secretary for domestic issues during the run-up to the war in Iraq, raising questions about how McClellan could claim the President used "propaganda" to sell the war.
"I don't think he was in a position to know this," Bartlett said flatly. He said it's "troubling" that McClellan is now "gives credibility to every left-wing attack" on anecdotes that are "either thinly-sourced or not witnessed by him" in the White House.
Bartlett bluntly said it was "total crap" for McClellan to suggest the media was too easy on the Bush administration in the run-up to the Iraq war.
"The problem is the intelligence was wrong," said Bartlett. "But this debate has been conflated into either we lied or on your side the tough questions were not asked. I think the truth is the intelligence was wrong."
On the Hurricane Katrina allegations, Bartlett refused to confirm or deny McClellan's claim that he and Bartlett believed the President should not have flown over New Orleans but were overruled by Karl Rove. "I'm not going to rehash internal deliberations," he said. "We've all acknowledged the whole Katrina experience could have been handled better."