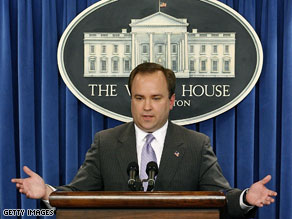 WASHINGTON (CNN) - There are many stunning allegations in Scott McClellan's new book on his years in the White House. But his decision to bring up President George W. Bush's alleged cocaine use as a young man was perhaps most surprising. Why revive an allegation that has long been dormant?
McClellan recalls a phone conversation he overheard Bush having when he was still Governor of Texas and running for president some eight years ago.
"The media won't let go of these ridiculous cocaine rumors," he quotes Bush as having said in that conversation with a political supporter. "You know, the truth is I honestly don't remember whether I tried it or not. We had some pretty wild parties back in the day, and I just don't remember."
McClellan says the comments "struck me" and "stayed with me to this day – not for what it revealed or concealed about the young George W. Bush, but for what it said about Bush as an older man and political leader, especially as revealed through my later experiences working for him."
McClellan adds: "I remember thinking to myself, How can that be? How can someone simply not remember whether or not they used an illegal substance like cocaine? It didn't make a lot of sense."
When I interview the former White House press secretary Friday in The Situation Room, I will ask him why he decided to revive this issue now.