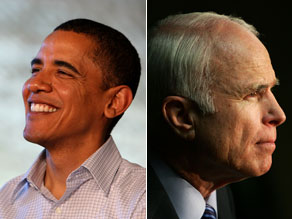 Despite worries on the home front about the economy, the housing market and record high gas prices... the war in Iraq has made it to center stage once again in the presidential campaign.
Turns out both of the likely candidates, John McCain and Barack Obama, think the debate over the war can work to their advantage.
McCain has been blasting Obama about Iraq, criticizing him for making decisions without visiting the war zone since 2006. McCain argues conditions on the ground have changed drastically since then. The RNC says, "the fact that there are 2-year-old Iraqi children who weren't born the last time Obama was in their country raises questions about what he is making his decisions on."
It's part of a larger strategy to paint Obama as inexperienced. It's also pretty convenient to shift attention away from domestic issues – like the economy, energy and health care – where Obama polls much stronger than McCain.
To read more and contribute to the Cafferty File discussion click here