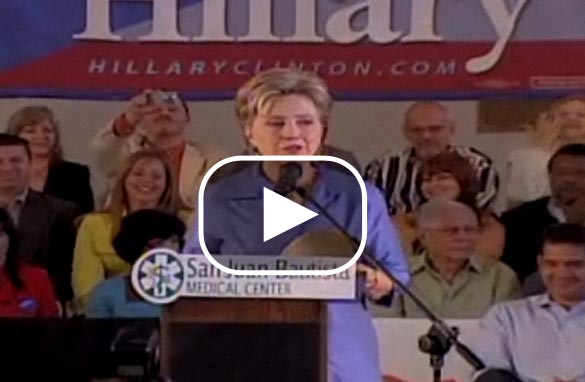 CAGUAS, Puerto Rico (CNN) - Hillary Clinton's campaign embarked on a jam-packed day of Puerto Rico campaigning Saturday in an effort to get out tomorrow's primary vote as a Democratic National Committee panel convened in Washington to essentially decide how the Democratic primary process will end.
A Clinton aide said she will likely receive updates from staff at the DNC's Rules and Bylaws Committee meeting.
Clinton made no mention of the fight to seat the Florida and Michigan delegations during her first stop at a hospital where she talked about her plan to bring equitable and universal health care to Puerto Rico.
Several supporters addressed her as "President Clinton," prompting cheers from the crowd.
Puerto Rico is not only important to Clinton's presidential aspirations but also as a senator from New York who represents approximately 1 million Puerto Ricans.
"Campaigning in Puerto Rico is like one long Puerto Rican Day parade," she said referencing a yearly event in New York City.
Clinton will spend the day "caravanning," a Puerto Rican political tradition in which the candidate rides through various communities meeting and greeting voters and produces a wild and carnival-like atmosphere.
"I'm dressed for our caravanning," Clinton said, referring to her festive purple top.
Clinton arrived in San Juan Friday night for a seaside festive rally near a Pina Colada stand.
"I want to see Puerto Rico's status resolved within my first term," she said. "I have loved campaigning through Puerto Rico because I believe this is Puerto Rico's time, that you have waited long enough."