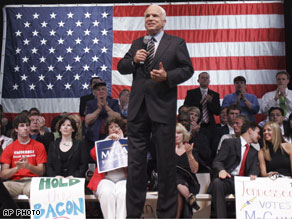 Guess who Hillary Clinton's new best friend is? The presumptive Republican nominee, John McCain, is singing Hillary's praises to the heavens.
McCain to a group of Tennessee voters: "I admire and respect her. Hillary Clinton has inspired generations of American women to believe that they can reach the highest office in this nation. I admire the campaign she's run. She's deserving of a "great deal of credit."
Interesting timing, now that Clinton's campaign is on its final leg. Clinton has insisted that if she's not the nominee she'll work with Barack Obama to unite the party and beat the Republicans in November. But remember all those Clinton supporters who angrily said they will vote for John McCain in the fall if she is not the nominee? Apparently John McCain remembers. And it sounds like he wants to know if they're serious.
To read more and contribute to the Cafferty File discussion click here