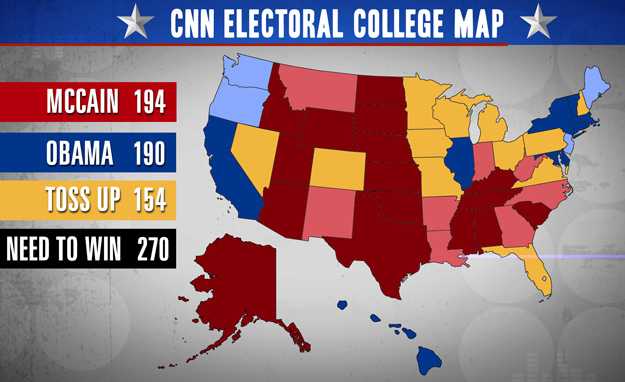 CNN will be projecting Electoral College results through Election Day. Battleground states are yellow, safe McCain states are dark red, leaning McCain states are light red, safe Obama states are dark blue, and leaning Obama states are light blue. Photo credit: CNN.
WATCH John King lay out the state of the Electoral College map.
WASHINGTON (CNN) - Today, CNN unveils the first of many CNN Electoral Maps of the 2008 general election. It is based on analysis from the CNN Political Unit and takes into account a number of factors, including polling, state voting trends, ad spending, candidate visits, and guidance from the campaigns and political strategists. The list will be updated regularly as the campaign develops over time.
======
| | |
| --- | --- |
| TOTAL ELECTORAL VOTES | 538 |
| BATTLEGROUND STATES | 154 |
| | |
| MCCAIN STATES TOTAL | 194 |
| Safe McCain States Total | 125 |
| Lean McCain States Total | 69 |
| OBAMA STATES TOTAL | 190 |
| Safe Obama States Total | 153 |
| Lean Obama States Total | 37 |
| | |
| BATTLEGROUND STATES: | 154 electoral votes in 12 states |
| Colorado | 9 |
| Florida | 27 |
| Iowa | 7 |
| Michigan | 17 |
| Minnesota | 10 |
| Missouri | 11 |
| Nevada | 5 |
| New Hampshire | 4 |
| Ohio | 20 |
| Pennsylvania | 21 |
| Virginia | 13 |
| Wisconsin | 10 |
| | |
| MCCAIN STATES TOTAL | 194 electoral votes in 24 states |
| Safe McCain states total: | 125 electoral votes in 16 states |
| Alabama | 9 |
| Alaska | 3 |
| Arizona | 10 |
| Idaho | 4 |
| Kansas | 6 |
| Kentucky | 8 |
| Mississippi | 6 |
| Nebraska | 5 |
| North Dakota | 3 |
| Oklahoma | 7 |
| South Carolina | 8 |
| South Dakota | 3 |
| Tennessee | 11 |
| Texas | 34 |
| Utah | 5 |
| Wyoming | 3 |
| Lean McCain states total: | 69 electoral votes in 8 states |
| Montana | 3 |
| North Carolina | 15 |
| Arkansas | 6 |
| Georgia | 15 |
| Indiana | 11 |
| Louisiana | 9 |
| New Mexico | 5 |
| West Virginia | 5 |
| | |
| OBAMA STATES TOTAL | 190 electoral votes in 15 states |
| Lean Obama states total: | 37 electoral votes in 4 states |
| Maine | 4 |
| New Jersey | 15 |
| Oregon | 7 |
| Washington | 11 |
| Safe Obama states total: | 153 electoral votes in 11 states (and D.C.) |
| California | 55 |
| Connecticut | 7 |
| D.C. | 3 |
| Delaware | 3 |
| Hawaii | 4 |
| Illinois | 21 |
| Maryland | 10 |
| Massachusetts | 12 |
| New York | 31 |
| Rhode Island | 4 |
| Vermont | 3 |