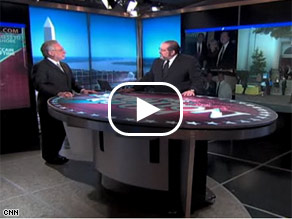 Watch CNN's Wolf Blitzer and David Bohrman discuss what transpired between Sens. Obama and McCain at Tim Russert's funeral mass Wednesday.
WASHINGTON (CNN) - It was a pretty amazing sight. John McCain and Barack Obama came to Tim Russert's funeral mass today here in Washington. The fact that they took time out from their campaigns to do so was already impressive, and certainly a lovely tribute to Tim. But they also did more. They wound up sitting right next to each other during the 90 minute service.
Before the service started, they were chatting rather amiably and intensely for 15-20 minutes. Those of us who were invited to the Holy Trinity Church in Georgetown were impressed that Tim, even in his tragic and untimely death, was able to bring these two presidential candidates together.
It was a powerful statement of Tim's unique role here in Washington.
Cardinal Theodore McCarrick, who presided over the gathering, warmly welcomed McCain and Obama. He spoke eloquently about Tim's faith, family and journalistic profession.
So did Tim's remarkable 22-year-old son, Luke, who delivered some beautiful Words of Remembrance. He told them what his dad would have told them: the American public wants their presidential candidates to discuss the most important issues of the day and not get bogged down with trivial personal attacks.
Luke also said that his dad was often so irritated when politicians refused to acknowledge they had changed their minds on important policy issues. There's nothing wrong, Luke said, in someone's changing his or her mind. He's right of course. Obama and McCain were clearly paying attention.
I suspect those strong words will have an impact on these two presidential candidates in the coming weeks and months.