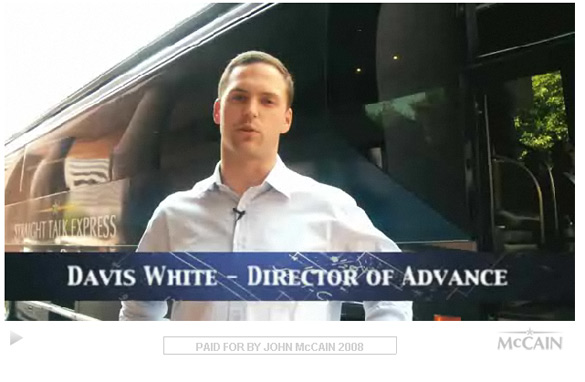 Facebook users who add the McCain campaign's new application to their profiles can watch a video tour of the Straight Talk Expess campaign bus. Photo credit: John McCain 2008/www.facebook.com.
(CNN) – John McCain's campaign has launched its first official Facebook application. Dubbed "Campaign Cribs: The Straight Talk Express," the new tool allows users to watch Davis White, the director of the McCain camp's advance team, as he gives a video tour of the presumptive Republican nominee's campaign bus.
The launch of McCain's application on one of the Web's dominant social networking sites comes one day after presumptive Democratic nominee Barack Obama crossed a Facebook milestone – by signing up his one millionth supporter on the site.
In the 18 months since Obama began his presidential bid, his campaign's Facebook application and other uses of social networking media have been credited with helping build an online bond between the Illinois senator and his younger supporters.
Obama currently has around 1,004,000 supporters signed up on Facebook and McCain has about 147,000 supporters on the social networking site.