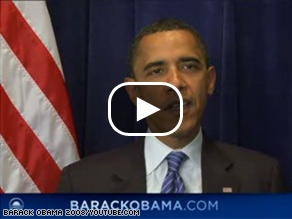 Watch Sen. Obama's announcement Thursday that he will not accept public financing for the general election campaign.
WASHINGTON (CNN) - Sen. Barack Obama has decided not to accept public financing for his campaign, the presumptive Democratic presidential nominee told supporters Thursday.
WATCH Candy Crowley on Obama's decision
In an e-mail message, Obama said his decision means that his campaign will forego over $80 million in public funds.
In exchange for taking public funds, candidates usually agree to a cap on the amount of money they can spend on their campaigns.
"It's not an easy decision, and especially because I support a robust system of public financing of elections," Obama wrote. "But the public financing of presidential elections as it exists today is broken, and we face opponents who've become masters at gaming this broken system."
Obama has repeatedly broken campaign fundraising records during the Democratic primary season. Since January of 2007, has raised over $272 million.
Sen. John McCain, the presumptive Republican presidential nominee, raised less than half of that, roughly $100 million, over the same period.