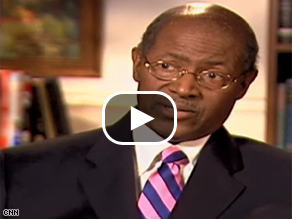 CNN's Joe Johns speaks with professor Ron Walters about black members of Congress who supported Sen. Clinton.
(CNN) - Members of the Congressional Black Caucus have some of the safest seats in Congress. Many come from heavily Democratic districts where the only contest that really matters is the primary: Forget November, if you can keep any Democratic rivals out of the primary, you're on the path to victory.
The formula for holding these seats is relatively simple: stay in touch with your constituents, stick to the well established liberal policy agenda, gain seniority, and use that seniority to convince voters they need your power in Congress.
It's worked. Until now.
Potential challengers who had no tool to dislodge heavyweight incumbents now have a powerful issue to drive a wedge between these legislators and their constituents. You can sum it up in a phrase: "Did You Believe?" - as in, did you believe in Barack Obama?
It's already an issue in Michigan's 13th district, where Congresswoman Carolyn Cheeks Kilpatrick, who stayed neutral in the primary because of her position as head of the Black Caucus, is being attacked as a Hillary Clinton supporter. Ohio's Stephanie Tubbs Jones, California's Maxine Waters and Texas Representative Sheila Jackson Lee were among several who backed Clinton outright, and are now having to deal with the repercussions.
University of Maryland historian Ron Walters told CNN's Joe John's this week that the uglier chapters in the presidential primary made matters worse.
"One of the biggest things is the unexpected dynamic of perceived racism coming out of the Hillary Clinton campaign alienated many blacks. So it's not just the issue of the history making properties of Barack Obama," he said.
It's likely too late for any potential challengers to get much traction in this election cycle. But if Obama winds up in the White House, the 2010 democratic congressional primaries in heavily African-American districts could be far less predictable than the past.