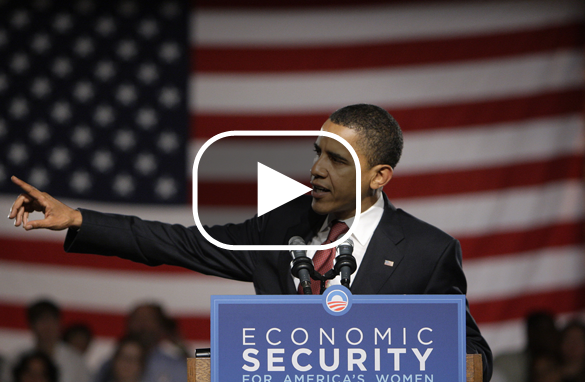 Watch Obama mock McCain's top economic adviser and former Texas Sen. Phil Gramm Thursday (Getty Images)
(CNN) - Barack Obama mocked a top economic adviser to John McCain Thursday for suggesting Americans are whining over to the country's economic woes, telling a Virginia crowd the nation doesn't need another Dr. Phil.
"I want all of you to know that America already has one Dr. Phil," Obama said, laughing as the crowd cheered. "We don't need another one when it comes to the economy. We need somebody to actually solve the economy. It's not just a figment of your imagination, it's not all in your head."
Earlier: McCain adviser criticized for comments
Obama was responding to comments from Phil Gramm, a former Texas senator and a co-chair of McCain's presidential campaign who told the Washington Times that America has "become a nation of whiners" and the country is in the midst of a "mental recession."
"We have sort of become a nation of whiners. You just hear this constant whining, complaining about a loss of competitiveness, America in decline," he said. "You've heard of mental depression; this is a mental recession."
Related: Gramm says comments misinterpreted
Gramm also said the media was responsible for fostering unnecessary anxiety over the state of the economy. "Misery sells newspapers," he said. "Thank God the economy is not as bad as you read in the newspaper every day."
Recognizing Gramm's comments may not sit well with many working class voters, a key voting bloc this election cycle, Obama said his administration would deliver more than 'psychological' relief.
"Let's be clear, when people are struggling with the rising costs of everything from gas to groceries, when we've lost 438,000 jobs over the past six months, when the typical family has lost a $1,000 of income in real terms since George Bush took office…this economic downturn is not in your head," he said. "When people are out there losing their homes and property values are declining, that's not a figment of your imagination and it isn't whining to ask government to step in and give families some relief."
Meanwhile, McCain quickly attempted to distance himself from the controversial comments, telling reporters that the former Texas senator does not speak for him.
"I don't agree with Sen. Gramm," McCain said. "I believe that the person here in Michigan that just lost his job isn't suffering a mental recession. I believe the mother here in Michigan and around America who is trying to get enough money to educate their children isn't whining."
Related: McCain repudiates Gramm comments