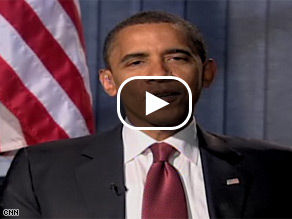 Watch part of Obama's interview with Larry King. Catch the full interview with Obama on CNN's Larry King Live tonight, 9 p.m. ET.
(CNN) - Barack Obama on Tuesday called the controversial New Yorker cover that unflatteringly depicts him and his wife an unsuccessful attempt at satire that will likely fuel misconceptions he has long battled over the course of his presidential campaign.
But in an exclusive interview with CNN's Larry King, the presumptive Democratic presidential candidate downplayed the impact of the illustration — which depicts him in Muslim attire in the Oval Office, with wife Michelle carrying a machine gun.
iReport.com: Satire or slander? Share your thoughts
"It's a cartoon…and that's why we've got the First Amendment," Obama said. "And I think the American people are probably spending a little more time worrying about what's happening with the banking system and the housing market, and what's happening in Iraq and Afghanistan, than a cartoon. So I haven't spent a lot of time thinking about it."
"I've seen and heard worse," he said. "I do think that, you know, in attempting to satirize something, they probably fueled some misconceptions about me instead. But, you know, that was their editorial judgment."
The cover, which also depicts a U.S. flag burning in the fireplace and a picture of Osama bin Laden on the wall, drew heavy criticism from both political parties after it first circulated the Internet over the weekend. Both presidential campaigns immediately condemned the magazine, calling the illustration "tasteless and offensive."
Earlier: New Yorker editor defends cover
David Remnick, the longtime editor of the highly-regarded publication, told CNN Monday that he believes the ironic intent of the illustration will be clear to most Americans.
Watch: Journalists debate the New Yorker Cover
In Obama's wide ranging CNN interview Tuesday - the entirety of which is set to air tonight on Larry King Live at 9 p.m. ET - the Illinois senator seemed to give cautious approval of the government's response to the turmoil surrounding mortgage giants Fannie Mae and Freddie Mac.