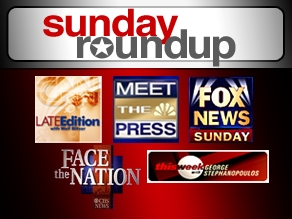 (CNN) - A roundup of quotes from the Sunday political talk shows, as compiled by the CNN Wire:
"I think that the U.S. government provides an awful lot of aid to Pakistan, provides a lot of military support to Pakistan. And to send a clear message to Pakistan that this is important, to them as well as to us, that I think - that message has not been sent."
-Sen. Barack Obama, on how to engage Pakistan to help improve security in Afghanistan, speaking to CBS' "Face the Nation"
"I think the consequences could be very dangerous in that regard. I'm convinced at this point in time that coming - making reductions based on conditions on the ground are very important."
-Adm. Michael Mullen, Chairman of the Joint Chiefs of Staff, on the possibility of a timeline for U.S. troop withdrawal from Iraq, speaking to "Fox News Sunday"
"I think it sends a signal that there is one, that eventually we do want to bring our troops back, and that... with where we are, conditions are improving in Iraq."
-Mullen, on President Bush and Iraqi Prime Minister Nuri al-Maliki's talk of a "general time horizon," speaking to "Fox News Sunday"
"I was not caught by surprise. I was working quite diligently with Congress to get reform, and we're very close to get reform."
-Treasury Secretary Henry Paulson, rejecting a Wall Street Journal editorial saying the "Fannie Mae debacle caught him by surprise," speaking to CNN's "Late Edition with Wolf Blitzer"
"The fundamentals of our economy are solid long term... and they compare favorably with the long-term fundamentals of... other industrial economies around the world."
-Paulson, on the strength of the U.S. economy, speaking to CNN's "Late Edition"
"I'm not going to get into our internal deliberations. We are always looking for ways to reach out to the Iranian people. We believe very strongly that the Iranian people... harbor no animosity toward the United States. And we certainly harbor no animosity toward them."
-Secretary of State Condoleezza Rice, on the possibility that the Bush administration may be considering establishing a diplomatic mission in Tehran, speaking to CNN's "Late Edition"
"I think it is achievable, and I think it's important that we achieve it."
-Former Vice President Al Gore, on his challenge to Americans to switch all electricity production to wind, solar, and other carbon-free sources within 10 years, speaking to NBC's "Meet the Press"