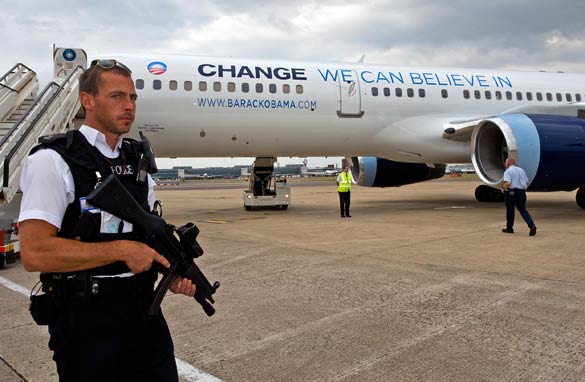 Sen. Obama's campaign aircraft prepares to leave London's Heathrow International Airport Saturday under heavy security and return to the U.S. Photo credit: Getty Images
LONDON, England (CNN) - Presumptive Democratic presidential nominee Barack Obama headed back to the United States Saturday night, bringing to an end his eight-day trip to the Middle East and Europe.
The Obama campaign's chartered Boeing 757 took off from London's Heathrow Airport just after 6 p.m. local time (1 p.m. ET), bound for Chicago, Illinois.
During the trip, Obama visited Kuwait, Afghanistan, Iraq, Jordan, Israel, Germany, France and the United Kingdom.
The senator told reporters just before takeoff that he intended to sleep the entire way home on the nearly eight-hour flight.