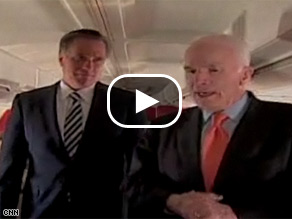 Watch: CNN's Ed Henry reports on what real people in Ohio are saying about the GOP choices for Vice President..
WASHINGTON (CNN) - With John McCain touring Pennsylvania Monday with his good friend and the state's popular former governor, Tom Ridge, the buzz is inevitably building about whom the Republican presidential candidate will select as his running mate.
If chemistry winds up being a key factor for McCain, Ridge has to be high on the so-called short list of veep possibilities - and the fact that Pennsylvania is such a critical swing state doesn't hurt. Plus, as a moderate Republican, picking Ridge could help give McCain even more street cred with independent voters as he tries to re-build the maverick image that faded a bit as he grew closer to President Bush in recent years.
But on the other hand, choosing Ridge could alienate social conservatives because of the former governor's long support for abortion rights. Given the reactions I gathered on my recent trip to another key battleground, Ohio, Republican rank-and-file voters want a conservative to fill out McCain's ticket and help get the party's base to the polls.
Their overwhelming favorite is Romney - not Ridge.
While I was in Lima, Ohio, last week I decided to ask Republican voters waiting on line for a McCain town hall meeting what they think, in order to gauge their passion.
The overwhelming favorite, no question, was former Massachusetts Gov. Mitt Romney. More than a dozen Republicans told me Romney would be McCain's best choice, especially with the economy emerging as issue number one on the campaign trail. "McCain's no businessman," said Sherry Key, adding of Romney: "I think he's good at economics and that's what John McCain needs. It's the only thing he's lacking."
Roberta Leach said Romney would excite economic conservatives in particular. "He can run a business, he can run the country," she said.
Another Republican woman, Chris McNamara, said that Romney is also a "little more conservative on family values" than McCain.
Romney backer Diane Hager told me that in such a close election with Democrat Barack Obama, she's worried that if McCain does not pick a conservative it will hurt him in November. "I think if he doesn't pick a conservative running mate he's going to have some conservatives that stay home and don't vote and that would be a real big mistake," she said.
Interestingly, several voters I spoke to knew very little about another person on McCain's short list, Minnesota Gov. Tim Pawlenty. "I don't know much about him, it's a new name," said Sue Kayser, who told me she's backing Romney. "People aren't going to vote for an unknown."
In fairness to Pawlenty, however, he has been on the national stage for a shorter time than Romney and did not run for president himself so it makes sense that he has less name I.D. And it's worth noting that many voters told me they would consider Pawlenty carefully and could be swayed to support him - but they said McCain would have to do a much more aggressive job of selling the governor to Republican voters than he would have to with Romney.
And there's another wild card in the mix: Secretary of State Condoleezza Rice. McCain supporter John Hiles told me he likes that Rice could pull female and African-American votes from Obama, as well as the Secretary's national security credentials. "She's capable of leading this country," he said.
Of course, that experience came under an unpopular President whom McCain is trying to split himself from these days. In addition, Rice keeps saying she does not want the VP job. So the overwhelming consensus I found in that one important part of Ohio was Romney.
Unlike his close relationship with Ridge, McCain has had some frosty dealings with Romney. Still, back in 1960, two presidential candidates - John Kennedy and Lyndon Johnson - didn't have much use for each other after a brutal Democratic primary campaign. Their partnership worked out pretty well because Kennedy and Johnson agreed on at least one thing: They both wanted to win.