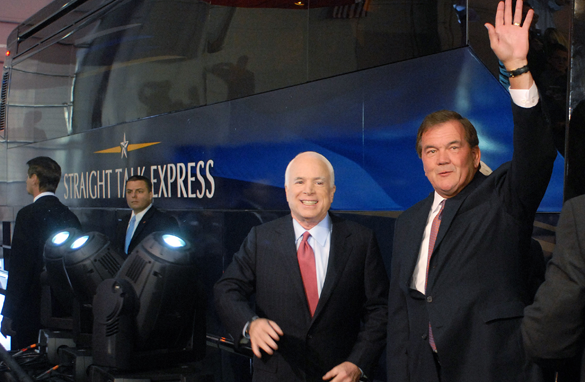 McCain said Ridge's support of abortion rights does not rule him out as VP
(CNN) - John McCain has a message for those who believe former Pennsylvania Gov. Tom Ridge's support of abortion rights effectively rules him out for the VP spot on the Republican presidential ticket:
Not so fast.
The presumptive Republican presidential nominee, who remains suspect in the eyes of many social conservatives, told the Weekly Standard Wednesday Ridge's pro-choice stance does not necessarily mean he isn't being considered for the No.2 spot.
"I think that the pro-life position is one of the important aspects or fundamentals of the Republican Party," McCain told the magazine. "And I also feel that–and I'm not trying to equivocate here–that Americans want us to work together. You know, Tom Ridge is one of the great leaders and he happens to be pro-choice. And I don't think that that would necessarily rule Tom Ridge out."
Ridge, a veteran of the Vietnam War who remains extremely popular in his critical home state, is a close ally of McCain who campaigned with the Arizona senator during his Pennsylvania swing earlier this week.
In many ways, Ridge is an appealing choice for McCain, especially geographically. The GOP hasn't carried Pennsylvania in two decades, and a McCain win there would deal a potentially devastating blow to Obama's hopes of winning the White House. Ridge's hardscrabble upbringing may also appeal to blue-collar voters while his moderate political leanings could play well with Independents.
But the pro-choice ridge is no ideological warrior and if McCain hopes to placate economic and social conservatives, Ridge may be the wrong pick. Along those lines, Joe Lieberman - now an "independent Democrat and fervent McCain supporter who is also pro-choice - likely wouldn't fare well with many conservatives either.
McCain has a solid pro-life voting record, and he has said he thinks Roe. v. Wade should be overturned. But the issue is not one McCain appears to like discussing.