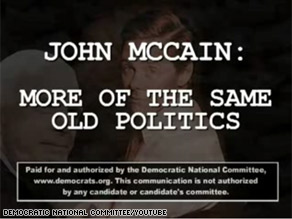 WASHINGTON (CNN) – The Democratic National Committee's is taking on John McCain in a new Web video calling into question his reputation as a campaign finance reformer and a maverick who stands outside the inner circles of political dealings in the nation's capital.
The online video accuses McCain of "cozying up" to the "cronies" of disgraced lobbyist Jack Abramoff, who pled guilty in 2006 to federal charges of fraud, tax evasion and conspiracy to bribe public officials.
The video takes issue with McCain's fundraising ties to Ralph Reed, a former business partner of Abramoff. "While most people now see Ralph Reed as a tainted man raising tainted money, John McCain sees him as a source of campaign cash," a narrator in the video says.
Reed recently sent out an e-mail that urged Republicans in Georgia to attend a planned Republican National Committee fundraiser for McCain scheduled for next Monday in Atlanta.
The Democratic National Committee said that Rep. Henry Waxman, D-California, will call for McCain to cancel the planned fundraiser in a conference call with reporters on Friday morning.
Update 7:10 pm: Alex Conant, spokesman for the Republican National Committee released the following statement in responce to the DNC's new web video: "It's laughable Democrats would try to make this a political issue, considering John McCain led the Abramoff investigations and has record of fighting to reform Washington, while Barack Obama's brief political career already has its own fundraising scandals."
(full script after the jump)
Script, DNC Web ad "Tainted"
VOICEOVER: "On the campaign trail, John McCain claims that he fought to expose Jack Abramoff and his corrupt cronies…"
MCCAIN: "And I led the investigation."
VOICEOVER: "It was a scandal that rocked the country, linking all the way to the Bush White House and Republicans in Congress, sending two former Republican Congressmen to prison.
"But, now, desperate to raise campaign cash to run more negative attack ads, John McCain is cozying up to Jack Abramoff's cronies.
"Ralph Reed, a key business partner of Jack Abramoff helped the convicted former Republican lobbyist launder 2 million dollars through a front group to finance a gambling campaign.
"Now, Ralph Reed has signed up to raise money for John McCain. Reed has even been appointed to McCain's Victory 2008 Team.
"Ralph Reed's murky connections to Jack Abramoff run so deep, it cost him a race for Lt. Governor in Georgia.
"While most people now see Ralph Reed as a tainted man raising tainted money, John McCain sees him as a source of campaign cash.
"John McCain – more of the same old politics."