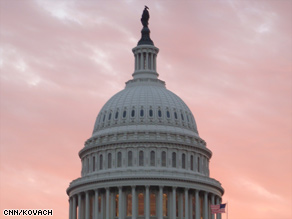 CNN: Source: Obama was 'hung up' on change vs. experience
The VP choice was a difficult one for Obama, a source close to the Illinois senator tells CNN's Gloria Borger. Specifically Obama was "very hung up on the experience versus change," the source said, and how his message of change may conflict with a longtime Washington insider.
Washington Post: Take the McCain House Tour!
Indoor and outdoor swimming pools! Spas and state-of-the-art fitness centers! Views of the Arizona mountains, the Pacific Ocean and downtown Phoenix!
Washington Post: Contracts Went to a Longtime Donor
Two years ago, the office of Michelle Obama, the vice president for community relations at the University of Chicago Medical Center, published a glossy report detailing the improvements her office had made in the lives of local residents, in part by increasing ties to minority contractors.
CNN's John King: Professor Obama and the August Curse
Do the Democrats have an August curse? That's probably not the best way to put it, but in elections they have lost, Democrats often look back and view August as a wasted or just plain horrible month.
LA Times: Undecided voter? There may be no such thing
Researchers find that many people who think they are uncertain have unconsciously made up their minds based on deep-seated beliefs.
CNN Radio: Secret secret, I've got a secret
Yes, he's decided, but no, he's not telling thank you very much At least not just yet. The running mate spotlight sits on Sen. Barack Obama, as Sen. John McCain takes a break from it. Bob Costantini has today's CNN Radio Political Ticker.
Chicago Tribune: Jackson eclipsed in the age of Obama
For most of Jesse Jackson's life, his trademark declaration — "I am somebody!" — has been self-evident. But not so much anymore. The rise of Barack Obama and a surge of young leaders in the civil rights movement are raising questions about how big a somebody Jackson really is these days.
Politico: Text hoaxes plague Obama VP plan
By the time Barack Obama is ready to announce his vice presidential pick, will anyone believe him? In recent days, as speculation and anticipation has mounted, so too have phony text messages declaring Obama's supposed running mate – from Evan Bayh and Hillary Rodham Clinton to Olympic gold medalist Michael Phelps.
Denver Post: Covert ads pour into state
Even given Colorado's role as a key state in the battle for control of the U.S. Senate, veteran political observers say they are startled by the furious clip of negative advertising now pouring into the state, with total ad buys surpassing $8 million on Thursday.
Rocky Mountain News: Rocky/CBS4 poll: DNC not exactly firing up Coloradans
Jim McGinley and Joyce Anderson don't mind that the Democratic National Convention is coming to Denver, just as long as they don't have to be there.
LA Times: Many without tickets going to Democratic convention anyway
They simply want to be there when the first black man in U.S. history accepts a major-party presidential nomination.
New York Sun: Mystery Emerges on Where Obama Stands in the Education Wars
A bitter rift inside the Democratic Party over testing, teachers, and No Child Left Behind will be exposed this weekend as the party's convention kicks off in Denver, putting to a test Senator Obama's promise to bridge differences and bring diverse coalitions together.
NY Times: At Rally, Finding Clinton's Aid to Obama Too Tepid
Minutes after pushing through the rope line to thank Senator Hillary Rodham Clinton for "all that you do," Robin Shaffer said she was worried.
NY Times: Ads on Nuclear Threat Removed From Convention Airports
Hoping to draw the public's attention to the threat of nuclear weaponry, an issue that both presumptive nominees for president regularly mention on the campaign trail, the Union of Concerned Scientists bought billboards at the airports in Denver and Minneapolis-St. Paul, where the Democratic and Republican conventions will soon be held.
CNN: McCain ad highlights Rezko connection
On the heels of an aggressive effort by the Obama campaign to exploit John McCain's recent inability to recall how many houses he owns, the Arizona senator's campaign is launching a new television ad slamming Obama over his dealings with disgraced Chcago businessman Tony Rezko.
NY Times: Energy Politics Proving Difficult to Master
The politics of energy are convoluted and volatile in Congressional campaigns across the United States this summer, as candidates search for a Goldilocks approach that is neither too hot nor too cold, and that voters will believe is sincere.
USA Today: Rivals draw election battlelines
Presidential candidates John McCain and Barack Obama sat down for separate interviews with USA TODAY this week leading up to the national party conventions that will formally kick off the two-month sprint to Election Day.
NY Times: Group Plans Ad Criticizing Obama's Ties to Ex-Radical
A new conservative group co-founded by a former campaign aide to Senator John McCain said Thursday that it would begin a major advertising campaign against Senator Barack Obama emphasizing his association with Bill Ayers, the 1960s radical and Weather Underground founder.
Washington Post: Obama Camp Has Many Ties to Wife's Employer
A few years ago, executives at the prestigious University of Chicago Medical Center were concerned that an increasing number of patients were arriving at their emergency room with what the executives considered to be non-urgent complaints.
NY Times: McCain Advisers Say Stance on Abortion Is Crucial for No. 2
Senator John McCain has narrowed his list of potential running mates to a handful of candidates and appears unlikely to select anyone who supports abortion rights, several advisers close to his campaign said on Thursday.
CNN: Survey: Americans feel churches shouldn't meddle in politics
A slim majority of Americans think churches should stay out of politics, according to a new survey. The survey suggests that for the first time in more than a decade, there has been a shift away from the view that religious groups should influence social and political issues.
NY Times: Obama and McCain Seek a Common Touch
Barack Obama and John McCain ripped into each other on Thursday over how many houses, fireplaces and even wine cellars they own, using allusions to net worth to deride each other while portraying themselves as able helmsmen for a faltering economy.
Washington Post: Hoyer Advocates for a Four-Day Work Week
Like long weekends? House Majority Leader Steny H. Hoyer (D-Md.) is pushing a work week of four, 10-hour days for federal employees.
WSJ: Flaws Found In Watch List For Terrorists
The government's main terrorist-watch-list system is hobbled by technology challenges, and the $500 million program designed to upgrade it is on the verge of collapse, according to a preliminary congressional investigation.
Washington Post: Civil Rights Panel Faulted on Hiring Choice
Democratic critics say Hans A. von Spakovsky is an odd fit for his new job at the U.S. Commission on Civil Rights. Von Spakovsky, a former Justice Department official who pushed for the approval of a Georgia voter identification law that critics claimed made it difficult for poor people and the elderly to vote, was hired in July as a special assistant for the commission.
AP: HHS: Doctors can refuse to provide abortions
The Bush administration on Thursday proposed stronger job protections for doctors and other health care workers who refuse to participate in abortions because of religious or moral objections.
NY Times: Seeking More Viewers, MSNBC Turns Left
WITH the promotion of Rachel Maddow, the Air America radio host, to a prime-time television spot this week, the longtime third-place cable news network MSNBC cemented its identity as a channel for a liberal audience.
Washington Post: Contracts Went to a Longtime Donor
Republicans are set to consider a complete rewrite of their political calendar for the 2012 presidential primaries as they gather in Minnesota to officially nominate Sen. John McCain after a tumultuous primary season.