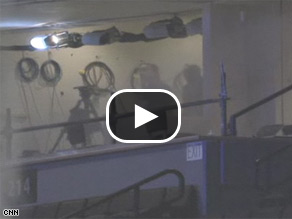 Watch: A fire breaks out in a media skybox at the Pepsi center in Denver, site of the Democratic National Convention
DENVER (CNN) - A Fox crew setting up inside the Pepsi Center early Monday morning – where the Democratic convention officially kicks off tonight – set off the arena's sprinkler system, dousing their equipment.
Denver Fire Department spokesman Lt. Phil Champagne said he believed Fox workers may have set up broadcast lights too close to the sprinkler system, triggering the downpour. "We'd advised them to keep their lights away from the sprinkler head. They had put some lights too close the sprinkler heads, which set them off," he said.
A FOX spokeswoman has not yet returned a request for comment.