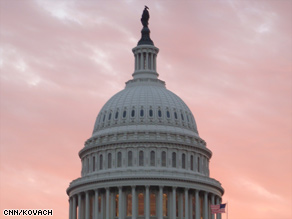 CNN: John McCain is not lying low
Presidential candidates usually keep a low-profile during the other guy's convention, but not John McCain. He's trying here in his home state to stay relevant to what's happening in Denver at the Democratic National Convention.
CNN: Obama a spectator as Michelle takes center stage
Hands cupped under his chin as he sat in a family's living room, Barack Obama smiled as they watched Michelle Obama introduced on their television screen.
Washington Times: Lobby ties counter Biden's 'outsider' label
Sen. Barack Obama is trying to portray himself and his running mate, Sen. Joseph R. Biden Jr., as the "outsider" ticket of the year, but Mr. Biden's 35-year career in the Senate may make that a difficult sell. One need look no further than Mr. Biden's relationship with his lobbyist son and his law firm to see why.
CNN: Edward Kennedy, Michelle Obama draw tears and cheers
Sen. Edward Kennedy declared there was "new hope" for the nation in his surprise appearance at the Democratic National Convention, while Michelle Obama addressed critics of her patriotism and stressed her love for the country.
CNN Radio: Dems put on emotional spectacle for day one
The first day of the DNC went off without a hitch for the Democrats. CNN's Steve Kastenbaum tells us what took place at the Pepsi Center in Denver in the CNN Radio Political Ticker.
CNN: Analysts dissect convention's first day
How did it go? Members of the Best Political on Television weigh in with their thoughts.
View all the video highlights from Day One here
Read the full transcriptof Edward Kennedy's DNC speech here
Read the full transcript of Michelle Obama's 'One Nation' speech here
View Tuesday's Convention Schedule here
CNN: Watch: A tribute to Senator Ted Kennedy:
Watch as Caroline Kennedy introduces her uncle- Senator Ted Kennedy and a tribute to his life and nearly 50 years in public life.
LA Times: John McCain fundraises in Sacramento, claims he'll compete in California
And now for a change of pace, some actual Republican news: With many political eyes on Denver and the Democrats this week, John McCain came to Sacramento to raise money today and offered straight talk that raised a few eyebrows. First, he revealed that his wife, Cindy, is on a humanitarian trip to the nation of Georgia.
AP: GOP touts McCain's support among Clinton backers
As Democrats try to mollify disappointed supporters of Hillary Clinton, Republicans pushed the theme Monday that Democrats are divided and open to voting for John McCain.
Politico: McCain brings out the age jokes on Leno
Now it's John McCain's turn to make age jokes about himself. Walking onto the set of "The Tonight Show With Jay Leno" Monday afternoon, McCain had the funnies cued up: "You forgot to mention that I warned the people about the British coming," McCain said after Leno introduced the senator as a hero.
Dallas Morning News: Immigration won't be top issue for either Obama or McCain
Mindful of Hispanics' growing clout, Barack Obama has vowed to push for comprehensive immigration reform as president. But energy, the economy and Iraq get top billing at the Democratic National Convention.
CNNMoney.com: U.S. view of economy is getting worse – poll
Three out of four Americans believe the economy is in bad shape, CNN/Opinion Research Poll shows.
WSJ: Shaky Economy Challenges Ambitious Obama Agenda
Democrats convened in Denver on Monday with the economy's woes muscling to the top of political concerns, as reflected in further drops in stocks and housing prices.
Washington Post: Biden Arrives To Acclaim, Begins Work On Campaign
Sen. Joseph R. Biden Jr. (Del.) made his debut appearance in the host city of the Democratic convention Monday as he rushed to integrate himself into Sen. Barack Obama's presidential campaign and prepared to accept the party's vice presidential nomination Wednesday night.
Washington Post: The Bidens of Delaware Descend on Denver
Meet the Bidens! Grandpa Joe brought the entire clan to Denver yesterday, introducing its brand of Delaware bonhomie to the proceedings.
CNN: Clinton to take stage, then step aside for Obama
For a moment, the spotlight will be back on Sen. Hillary Clinton as she takes the stage Tuesday for her last solo "hoorah" of the 2008 presidential election.
Washington Post: Majorities Again Say They Hold Favorable Impressions of Both Clintons
After dips in public opinion toward the end of the primaries, narrow majorities of all voters now view both Sen. Hillary Rodham Clinton and former president Bill Clinton favorably, according to a new Washington Post-ABC News poll. But both still receive lower marks than Sen. Barack Obama.
Washington Post: For Those From Swing States, The Watchword Is . . . Worry
The anxiety comes in several forms, but particularly common is the pained look, followed by the quick glance away and the lengthy pause, in the face of a simple question: How is Barack Obama doing?
WSJ: These Days, the Delegate Tally Is No Longer the Roll Call of the Wild
At some point on Wednesday evening, Florida - or maybe it will be Michigan, Colorado or Ohio - will cast the votes that give Barack Obama a majority of convention ballots and, with that, the Democratic presidential nomination. The choice of state won't be left to chance.
WSJ: Hometown Papers Splurge On Convention Coverage
Like their counterparts across the country, the local newspapers in Denver and Minneapolis-St. Paul have been cutting back as advertising sales dwindle. The next two weeks will be an exception: As the political conventions roll into town, the four major hometown dailies are planning lavish coverage worthy of the Olympics.
Washington Post: Alaskans Vote Today in Pivotal Republican Primaries
Alaska's Republican voters go to the polls Tuesday to decide whether a pair of GOP incumbents with a combined 75 years in Congress should continue to be the dominant figures in state politics as they battle criminal investigations.
NY Times: Guns Silent, Moscow and Tbilisi Open New Front in Denver
Just hours before the Democratic National Convention was gaveled open on Monday, several party leaders sat down with the delegation from Georgia. But for these Georgians, the term "battleground state" had an altogether grimmer meaning.
CNN: Authorities investigate 'threat'
Authorities arrested one person and detained two others Sunday on drugs and weapons charges in suburban Denver and were investigating whether the suspects made a threat against someone at the Democratic National Convention, a federal law enforcement source told CNN.
Washington Post: Political Coverage That's All a-Twitter
John Dickerson, who covers the presidential campaign almost single-handedly for Slate, is a man of few words.
Washington Post: A Yankee For McCain
A celebrity endorsement for John McCain: Puerto Rican reggaeton star Daddy Yankee, whose unexpected stop with the candidate at a Phoenix high school yesterday caused teen girls to completely freak out, reports our colleague Michael Shear. The singer, whose crossover 2004 hit "Gasolina" extolled hot women, sex and cars, said McCain is the best "fighter for the immigration issue."
WSJ: Who Are You Calling Old?
In 1996, Bob Dole, the Republican Party's presidential nominee, battled criticism that, at 73 years old, he was too old to be president. Now 85, Mr. Dole is working "pretty much every day" at a Washington law firm, says the firm's spokesman.
Washington Post: Dean's 50-State Strategy Continues to Generate Debate
When Howard Dean officially opened the Democratic National Convention on Monday night, he could look with satisfaction at the assembled delegates from all 50 states, knowing that many more states are in play this campaign season than were before he took over the party.
NY Times: Lost in a Convention Haze, With Bloggers Lurking at Every Turn
The first working day of a party convention is never going to be a comfortable one. Credentials will be misplaced, procedures will be unknown, and routes will be circuitous, often ending in the wrong place.
Washington Post: Clinton Advisers Skipping Obama Speech
A number of Sen. Hillary Clinton's top advisers will not be staying in Denver long enough to hear Barack Obama accept the nomination for president, according to sources familiar with their schedules.
WSJ Op-Ed: Sens. Graham and Lieberman: Russia's Aggression Is a Challenge to World Order
In the wake of Russia's invasion of Georgia, the United States and its trans-Atlantic allies have rightly focused on two urgent and immediate tasks: getting Russian soldiers out, and humanitarian aid in.
WSJ Op-Ed: Tony Blair: We Can Help China Embrace the Future
The Beijing Olympic Games were a powerful spectacle, stunning in sight and sound. But the moment that made the biggest impression on me came during an informal visit just before the Games to one of the new Chinese Internet companies, and in conversation with some of the younger Chinese entrepreneurs.
The Guardian: Revealed: Britain's secret propaganda war against al-Qaida
A Whitehall counter-terrorism unit is targeting the BBC and other media organisations as part of a new global propaganda push designed to "taint the al-Qaida brand", according to a secret Home Office paper seen by the Guardian.
USA Today: FEMA spends almost $3B on emergency housing
The Federal Emergency Management Agency has paid nearly $3 billion in hotel bills and rental assistance for the victims of Hurricanes Katrina and Rita — by far the costliest emergency housing effort in the nation's history, according to government statistics.
Washington Times: FBI blames phone flap on miscommunication; Critics unlikely to be mollified
The FBI's top lawyer said miscommunication – not malevolence – led the bureau in 2004 to improperly obtain the telephone records of newspaper reporters writing about Islamic terrorism in Indonesia.
CNNMoney.com: Fannie and Freddie woes spread
The sharp decline in the value of preferred shares of the troubled mortgage finance firms could lead to billions of dollars more in bank writedowns.