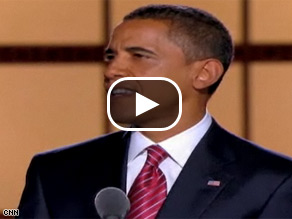 Watch Obama says the country is better than what it has gotten the past four years.
I imagine that lots of you out there remain fierce critics of Barack Obama. Next week Republicans will legitimately debate and challenge many of his ideas, especially about his call for a more activist government. It will be fascinating now when John McCain and Obama meet in debates.
But for this moment and for this purpose, I saw Obama's speech tonight as a political masterpiece. As I had a chance to say on CNN a few moments ago, it was in many ways less a speech than a symphony. I also sensed that we saw tonight an Obama who is growing into a new, more mature leader - stronger, tougher, harder-hitting than he had appeared only a few weeks ago.
Watch: 'Our work won't be easy,' Obama says
Whether Obama will win this Novemember or not is still very unclear, but if he does, I imagine we may look back and say this was a major turning point.
Many of you, I know, will disagree. From all of you, I would welcome your thoughts - you, after all, are the voters who will actually decide the fate of the country.