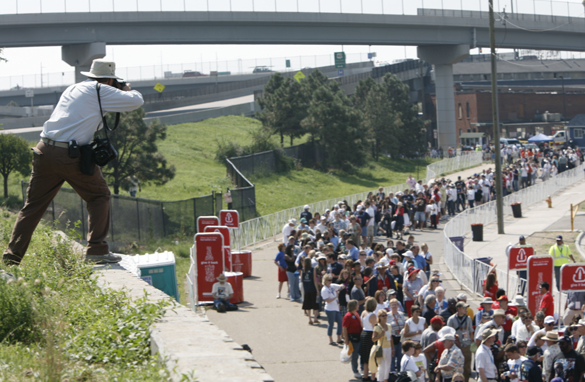 The lines were long early in the day to get into Invesco Field (Mathieu Young/CNN)
Denver (CNN) - Charlie Dominguez is spending his 47th birthday standing in line at Invesco Field hoping he will be able to count a ticket to Sen. Barack Obama's Thursday night acceptance speech among his birthday gifts.
"It's just to be close," Dominguez said. "Everybody's electrified. I want a chance for the glimpse, ya know?"
Dominguez, who hails from traditionally-red Kansas, said he was always a registered Republican until this year when he switched his registration to Democratic.
Watch live shots of Invesco Field on CNN.com/live!
A few ticket-holders and would-be attendees arrived at Invesco Field by 9 a.m. By noon, the line for entrance included roughly a thousand people, a reporter estimated.
The campaign expects roughly 75,000 people in attendance when Obama officially accepts the Democratic presidential nomination.