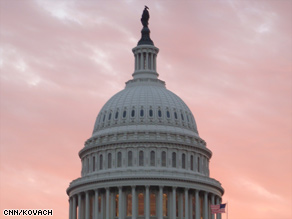 CNN: Obama blasts McCain, lays out his own agenda
Barack Obama accepted the Democratic nomination for president Thursday in a speech that attacked John McCain and George W. Bush, laid out an ambitious agenda for an Obama administration and called on Americans to unite around common beliefs.
WSJ: McCain Moves To Seize His Target: The Momentum
John McCain worked to seize the momentum in the race for president with a new TV ad congratulating his Democratic rival, and a vice-presidential pick
CNN: McCain camp closely watching Gustav
John McCain's campaign is keeping a close eye on Tropical Storm Gustav as it heads towards the Gulf Coast and Republicans begin the trek to St. Paul, Minnesota, to nominate McCain for president.
Detroit Free Press: Romney's brother denies knowledge of Secret Service checking out sister's house
If the Secret Service is vetting his family in advance of his brother's selection as John McCain's running mate, Scott Romney, the brother of Mitt Romney, said early this evening that it's news to him.
Washington Post: Meanwhile, Back in the Capital . . .
Normally you can't swing an intern in Washington without hitting a politician, a lobbyist, a journalist, a muckety-muck or, at the very least, a deputy assistant undermuckety-muck. But everyone's gone from Official Washington. It's apocalyptically empty.
CNN Radio: Millions watch as Obama accepts historic nomination
Barack Obama made history Thursday night in his acceptance speech and then spent part of it blasting John McCain as out of touch. CNN's Steve Kastenbaum has more in this CNN Political Ticker.
[Audio http://i2.cdn.turner.com/cnn/2008/images/08/29/cnnradiopoliticalticker082908.mp3%5D
Click here to catch all the Day 4 video highlights here
Click here for the full transcript of Obama's speech here
Minneapolis Star-Tribune: Has McCain picked Pawlenty? Or ...
The Republican vice presidential watch picked up ever-more intensity Thursday, with Minnesota Gov. Tim Pawlenty right in the middle of it.
Salt Lake City Tribune: Bennett says McCain will select Romney
Republican Sen. Bob Bennett predicts John McCain will pick Mitt Romney as his running mate because the former Massachusetts governor "fills all the holes in McCain's résumé."
CNN: More than 75,000 pack stadium to hear Obama
Sen. Barack Obama's acceptance of the Democratic Party's presidential nomination may be historic in many ways. One of them is the size of the audience at Invesco Field.
Washington Post: For the Descendants of King's Dream, a New Day Dawns
No one said this exactly, but imagination was the quiet star of this day, that thing that leaps over walls and moves the fences of our limitations.
CNN: GOP: Don't believe the hype, Obama not ready
Despite a stadium packed far past capacity, with nearly 90,000 supporters wildly applauding nominee Barack Obama as he spoke Thursday, Republicans responded with one hand gesture: thumbs down.
USA Today: Obama: Six things he must do before Nov. 4
Barack Obama's acceptance of his party's presidential nomination here Thursday night, just four years after his national debut at the last Democratic convention, is a reflection of the political skills that brought the freshman senator to this historic moment — and the challenges that lie ahead.
WSJ: The Last Thing McCain Needs Is a Hurricane to Stir Memories
Tropical storm Gustav may be over the Caribbean, but its forward winds are already buffeting Denver and St. Paul, Minn.
CNN: Huckabee: I won't be McCain's V.P.
Former presidential candidate Mike Huckabee told supporters Thursday he would not be John McCain's running mate, and emphasized that he was never vetted by McCain's presidential campaign.
NY Times: McCain Ad Is Valentine to Obama on Big Day
The Obama campaign was already nervous that Senator John McCain might try to steal the show from their big night by letting the name of his running mate selection slip out, and when the McCain campaign announced Thursday that it would run a new television commercial during their convention, those fears intensified.
CNN: Chaos and confusion outside Invesco Field
The celebration of Barack Obama's presidential nomination brought people to their feet inside INVESCO Field. Outside it just made their feet hurt.As 75,000-plus spectators filed out of the stadium, they walked straight into mass confusion.
Washington Post: O'Malley No Longer Outside Looking In
About 20 minutes before Barack Obama officially secured the Democratic nomination for president Wednesday, the Illinois senator picked up the phone and called Maryland Gov. Martin O'Malley, who was a big supporter of Sen. Hillary Rodham Clinton's during the primaries.
Politico: Scarlet 'L': Lobbyists mix with pols
Some things just don't change. Despite new ethics rules, lawmakers, lobbyists and big donors have found plenty of ways to spend time together during the Democratic National Convention.
Washington Post: GOP Considers Delaying Convention
Republican officials said yesterday that they are considering delaying the start of the GOP convention in Minneapolis-St. Paul because of Tropical Storm Gustav, which is on track to hit the Gulf Coast, and possibly New Orleans, as a full-force hurricane early next week.
CNN: What the TV cameras aren't watching
While TV cameras weren't watching, "ordinary guy" Barney Smith — part of the convention's "American Voices" segment — brought mile-high stadium to its feet.
USA Today: Few look back as they step across the aisle
When he appears Monday before the Republican National Convention, former Democrat Joe Lieberman will be reprising the role of turncoat attacker that Zell Miller played so effectively against his party four years ago.
CNN: The columns...it's all a bit much, say conservatives
The Temple of Obama. Barackopolis. Egobama. The descriptions of the transformation of Denver's Invesco Field peppered the Republican blogosphere hours before Barack Obama was set to address a dancing, jubilant crowd of more than 70,000 supporters on the Democratic National Convention's final night.
NY Times: Top Black Donors See Obama's Rise as Their Own
When Gordon Davis, a top fund-raiser for Senator Barack Obama, made partner at his white-shoe law firm in New York in 1983, it was a vastly different world for aspiring black professionals like him.
CNN: Gore invokes spirits of 2000 election
Former Vice President Al Gore criticized John McCain, the Republican candidate for president, on Thursday, playing on his reputation as an environmental activist.
CNN: Gergen's Analysis: Worth reading Gore's speech again
While his delivery was way too rushed, the substance of his speech was something that the country needs to think and talk about a lot more: a possible catastrophe building up around us.
Washington Post: Obama's Big Fat Greek Setting
It was a ceremony fit for the gods. Fireworks exploded overhead. A skycam soared through the air the way it does during "Monday Night Football." Strobe lights flashed, spotlights circled.
Washington Post: Stuck in A Groove; Pay No Mind to the Lyrics: Democrats Wax Nostalgic in Musical Choices
Immediately after Joe Biden accepted the Democratic nomination for vice president Wednesday, the producers of his party's convention cued "The Rising" by Bruce Springsteen.
Washington Post: D.C. Region Thrills to Nomination Of Obama
For 40 minutes, people planted themselves on bar stools in nightclubs and on crowded couches in private homes, their eyes fixed on television screens and history.
LA Times: California governor hopefuls meet, greet in Denver
A gathering of the state's Democratic convention delegates briefly turns the focus to 2010, when several of those in attendance may be vying to become the next governor.
Washington Post: Daschle in a Good Place, in Politics and Life
Thomas A. Daschle spent much of 2005 summoning friends and former colleagues to lengthy meetings. The former Senate majority leader broke out a pen and pad to take notes as he grappled with what to do next after a stinging defeat.