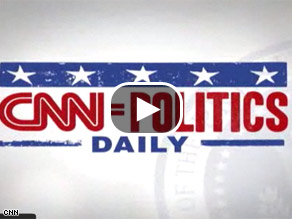 Watch Wednesday's episode of CNN=Politics Daily, the Best Political Podcast from the Best Political Team.
(CNN) – Delayed by Hurricane Gustav, the Republican convention got off to a substantive start Tuesday evening.
In the latest episode of CNN=Politics Daily, Jessica Yellin and Ed Henry report on Tuesday night's speeches by Pres. Bush, Fred Thompson and Sen. Joe Lieberman.
Kyra Phillips is still in Anchorage, Alaska taking a closer look at Gov. Sarah Palin's background. Phillips reports on Palin's political career prior to being tapped by Sen. John McCain for the No. 2 spot on the GOP ticket.
In an American Morning extra, Kiran Chetry breaks down the McCain campaign's VP vetting process that yielded Palin as a surprise to many pundits and politicos.
Finally, Yellin also provides some insight into the GOP's messaging strategy for the remainder of the convention and into how Gov. Palin is preparing for her big speech Wednesday night.
Click here to subscribe to CNN=Politics Daily