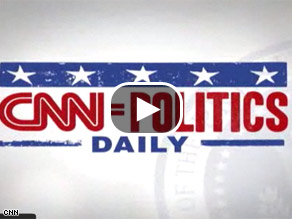 Watch Thursday's episode of CNN=Politics Daily, the Best Political Podcast from the Best Political Team.
(CNN) – Alaska Gov. Sarah Palin made her much-anticipated debut on the national political stage Wednesday in an address to the Republican convention.
In the latest episode of CNN=Politics Daily, Dana Bash reports on Palin's speech, and Kyra Phillips is in Alaska with reaction to the speech from the GOP vice presidential nominee's hometown.
Plus, Jessica Yellin sits down with American Morning's John Roberts to discuss Palin's debut and to look ahead at Sen. John McCain's acceptance speech Thursday night.
Finally, Suzanne Malveaux is with the Obama campaign and has a report on how the Democratic nominee is reaching out to women voters in the wake of Palin's selection for the VP spot on the Republican ticket.
Click here to subscribe to CNN=Politics Daily.