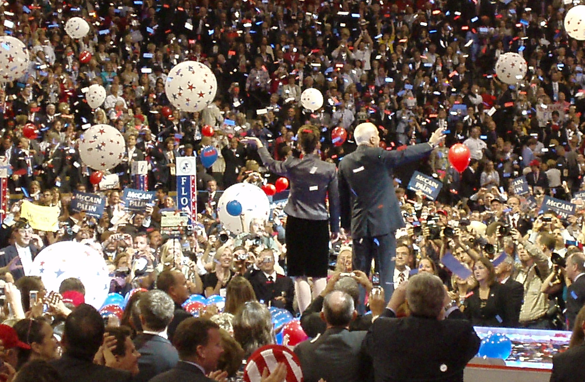 John McCain and Sarha Palin are the 2008 Republican presidential ticket. (Photo: Mike Roselli/CNN)
A few thoughts as John McCain takes his bows: one cannot leave that speech without having enormous respect for him as a war hero and patriot. His retelling of his story tonight was extremely moving. I have long been a fan of John McCain the human being and I came away even more impressed tonight. It is worth remembering that a McCain has fought in every American war since 1776.
In terms of addressing America's big challenges, however, I found the speech much less compelling. It was a very general recitation of fairly standard Republican approaches (how is he really different from Bush on policy?), and it did not address many issues such as getting us out of an economic ditch, heading off the worst financial crisis since the Depression, exploding health care costs, and more. Overall, I thought that part of the speech was thin.
Kudos to McCain for leaving personal partisan rancor out of the speech. Personally, I wish that he had curbed some of that earlier in the convention.
Overall, I came away believing that the McCain-Palin ticket will be very formidable this fall. And even though the speech was long, I thought that when one judges its political impact, I would give it an A.