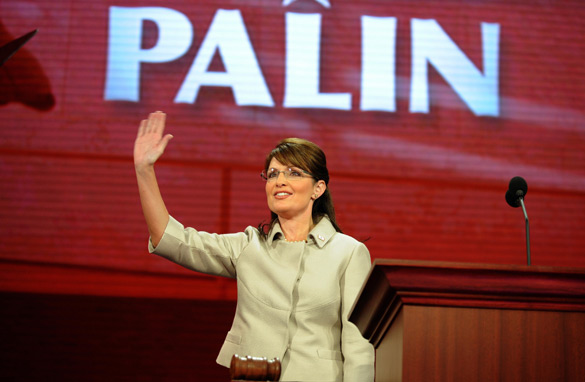 Gov. Palin waved to the crowd, that greeted her with a long standing ovation, before she spoke at the GOP convention Wednesday. (Photo Credit: Getty Images)
ST. PAUL, Minnesota (CNN) - Republicans nominated Alaska Gov. Sarah Palin to be their vice-presidential candidate, making her the first woman ever to run for the office as a Republican.
Palin was nominated on a voice vote which Sen. Mitch McConnell recognized as unanimous approval, prompting chants of "Sarah! Sarah!"
Watch: The GOP officially nominates Palin as VP
Palin thrilled the convention Wednesday night with a barnstorming speech attacking Democratic nominee Barack Obama, touting her credentials as a reformer, and praising her running mate, Sen. John McCain.
Outside the convention hall, reactions to her speech have been mixed, if generally powerful.
The Republican National Committee said Thursday it had raised $1 million since the speech. The Obama campaign said it had raised $8 million in the same period.