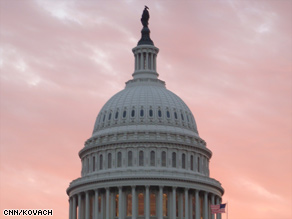 CNN: McCain: 'Fight with me'
John McCain vowed Thursday to "shake up Washington" and said he's prepared to reach across the aisle to get the country "back on the road to prosperity and peace."'
CNN: CNN Poll of Polls: Obama's lead narrows to four points
Obama now leads McCain by four percentage points – 47 percent to 43 percent — with 10 percent undecided about their choice for president. Since the previous CNN poll of polls released Wednesday, Obama has dropped two percentage points – from 49 percent percent previously to his current support level of 47 percent – while McCain's support remains steady at 43 percent since Wednesday.
Washington Post: McCain, Obama Vie For 'Reformist' Mantle
This year, in the midst of a war, an economic downturn, an unpopular presidency and general dissatisfaction with the failure of the political system to deal with big problems, both McCain and his Democratic opponent, Sen. Barack Obama, are scrambling for the reformist mantle, hoping to appeal to the disaffected middle without alienating the activist party bases.
WSJ: Anomaly in Arms: Candidates' Children May Face Combat Duty
Regardless of who wins this November's election, the U.S. is about to have its "Prince Harry" moment.
CNN: Palin aides peeked into trooper's files, union says
Aides to Alaska Gov. Sarah Palin improperly obtained her former brother-in-law's state police personnel files and cited information from those records to raise complaints about the officer, the head of Alaska's state police union said Thursday.
CNN Radio: McCain and Palin ride the elephant out of St. Paul and onto the campaign trail
John McCain and Sarah Palin hit the campaign trail today following their Republican national convention. In today's CNN Radio Political Ticker, Dick Uliano reports McCain's acceptance speech vowed cooperation with Democrats to change the way Washington works.
NY Times: House Chairman Failed to Report $75,000 in Income
Representative Charles B. Rangel has earned more than $75,000 in rental income from a villa he has owned in the Dominican Republic since 1988, but never reported it on his federal or state tax returns, according to a lawyer for the congressman and documents from the resort.
CNN: About last night...
See what CNN's political experts and analysts had to say about McCain's speech and the final night of the Republican National Convention.
CNN: Cindy McCain: John McCain speaks truth, at any cost
Cindy McCain praised her husband, Republican presidential nominee John McCain, as "someone of unusual strength and character" in a speech to the Republican National Convention on Thursday.
CNN: Graham: 'On the road to victory' in Iraq
Sen. Lindsey Graham says 'America is safer by winning in Iraq' thanks to Sen. John McCain.
CNN: Heart condemns McCain-Palin use of 'Barracuda'
Blasting through the Republican convention hall is the 1977 hit "Barracuda" by rock band Heart.
WSJ: Obama Camp Parries Palin Delicately
Barack Obama finds himself in the same delicate political situation he faced in the primaries: how to punch back against a hard-hitting female opponent without offending women.
Washington Post: Palin's Efforts to Reform Health Care Are Complicated
When Alaska Gov. Sarah Palin took office, she inherited a vexing health-care problem common to many states: whether to let small clinics compete freely against hospitals for such services as outpatient surgery and MRIs.
NY Times: Obama Camp Turns to Clinton to Counter Palin
Senator Barack Obama will increasingly lean on prominent Democratic women to undercut Gov. Sarah Palin and Senator John McCain, dispatching Senator Hillary Rodham Clinton to Florida on Monday and bolstering his plan to deploy female surrogates to battleground states, Obama advisers said Thursday.
Washington Post: From the Radio Right Comes an Amen Chorus for Palin
Dennis Prager was on the air last week on the day Alaska Gov. Sarah Palin was named to the Republican ticket, and without missing a beat, the conservative radio host pronounced her "an American Margaret Thatcher."
LA Times: Holy Limbaugh! Sarah Palin turns Rush to mush over the McCain ticket
We knew that Wednesday night's boffo speech to the Republican National Convention by newly minted vice presidential nominee Alaska Gov. Sarah Palin was a huge hit inside the house. But perhaps no one among the GOP faithful swooned more than Rush Limbaugh.
NY Times: Split on Foreign Policy, and Unsure Who Will Prevail
Hidden from view during much of the Republican convention here, a fierce struggle has been under way for the foreign policy heart of John McCain.
Washington Post: Obama Rails Against Attacks From Palin, GOP
For the first two days of the Republican convention, Sen. Barack Obama resisted pushing back against the attacks emanating from St. Paul, Minn. But on Thursday, the fourth and final day, his patience gave out, as he dismissed the barrage of criticism from the convention floor as "the same old vitriol and slash-and-burn politics."
NY Times: The Party in Power, Running as if It Weren't
The nominee's friend described him as a "restless reformer who will clean up Washington." His defeated rival described him going to the capital to "drain that swamp." His running mate described their mission as "change, the goal we share." And that was at the incumbent party's convention.
Washington Post: Experts Helping Palin Brush Up on Foreign Policy
Sen. Joseph I. Lieberman is among several national security experts helping brief Republican vice presidential nominee Sarah Palin on foreign policy issues as she prepares to hit the campaign trail while cramming for a debate with her Democratic opponent, Sen. Joseph R. Biden Jr. (Del.), in less than a month, according to officials from Sen. John McCain's campaign.
Washington Post: In Va., Biden Praises Rival's Speech, Says Key Issues Weren't Addressed
Sen. Joseph R. Biden Jr., the Democratic Party's vice presidential candidate, grudgingly offered good marks yesterday to his Republican counterpart for her first major campaign speech, saying on a swing through Northern Virginia that Alaska Gov. Sarah Palin had given a "heck of a political speech."
CNN: McCain is just part of Washington crowd, Democrats say
Sen. John McCain got one thing right Thursday when he said the Republicans had let Washington change them, Democrats said after his speech.
CNN: After Palin speech, Obama has record $10 million day
Barack Obama's campaign for president has raised $10 million since Republican vice-presidential candidate Sarah Palin spoke Wednesday night, the campaign announced, calling it a "one-day record."
Washington Post: Come as You Are? Sorry, Wrong Party
Another difference between Republicans and Democrats: Republican delegates coordinate their convention outfits. Democrats do not.
CNN: Analysis: McCain sincere, short on answers
It's odd to present yourself as a maverick to the most partisan audience imaginable, as John McCain did Thursday night.
CNN: Schneider: Cindy McCain keeps up the tough tone
Cindy McCain is delivering an oddly partisan speech -– it goes from humanitarianism to partisanship in the blink of an eye. It's an unusually partisan and ideological speech from a prospective first lady.
CNN: Will Palin's tough talk win over undecideds?
Alaska Gov. Sarah Palin came out swinging Wednesday night, but it's going to take more than just fighting words to win over the independent and undecided voters who hold the election in their hands.
CNN: Obama: 'I've been called worse on the basketball court'
Barack Obama said Thursday that attacks on him at this week's Republican National Convention were no big deal: "I've been called worse on the basketball court," he told reporters at an afternoon press conference.
CNN: Obama giving some black Republicans 'heartburn'
Armstrong Williams is an African-American conservative commentator who is thinking about making a decision that he says is so agonizing, it gives him heartburn.
NY Times: Firing Up the Faithful With Echoes of Culture War Rhetoric
Rudolph W. Giuliani, a former mayor of New York, said Senator Barack Obama thought a small Alaska suburb was not "flashy enough" or "cosmopolitan enough," linking his campaign to "Hollywood celebrities." Mitt Romney, a former governor of Massachusetts, denounced the "Eastern elites" that he said dominated the television broadcasts and editorial pages.
CNN: 'U.S.A.' chant is code to drown out protesters
In response to early rumors that demonstrators might try to interrupt Republican presidential nominee John McCain's acceptance speech Thursday night, a number of delegations agreed to chant "U.S.A." in order to quell the sound of protesters.
CNN: Police use tear gas to disperse protesters
Police arrested an estimated 200 anti-war protesters Thursday night after using tear gas and percussion grenades to disperse a crowd near the State Capitol, about a mile from the Republican National Convention.
CNN: Military officials: No troop cuts this year
Senior U.S. military leaders say it would be "impractical" to reduce U.S. troop levels in Iraq further before the end of the year because of the logistics required in the redeployments, two military officials told CNN Thursday.
CNNMoney.com: No job turnaround on horizon
Economists expect August to be the eighth straight month of job losses and say that the employment outlook looks weak for the rest of the year as well.
CNNMoney.com: Why the Fed cuts haven't worked
One of the Federal Reserve's staunchest proponents of its rate-cutting spree explains why lower rates haven't helped boost the economy.
CNN: McCain-Palin plane unveiled
A first glimpse of the "McCain-Palin" plane destined for Milwaukee with reporters. The plane is the Jet Blue Braer E190 that the McCain campaign used before the Straight Talk plane came onto the scene.
Washington Post: Red-Carpet Treatment; 'Access Hollywood's' Maria Menounos, Covering a Caucus of Politics and Celebrity
There is no better view of the worlds of celebrity and politics converging than here, in an NBC box above the convention floor, where Maria Menounos is about to tape her daily report.
CNN: Jon Bon Jovi hosting Obama fundraiser
Democratic presidential candidate Barack Obama will be in New Jersey on Friday for a fundraiser at the home of one of New Jersey's biggest celebrities.
CNN: Sex columnist: There's something about Republicans
Dan Savage, sex columnist and author of the syndicated sex advice column "Savage Love," made his way to St. Paul, Minnesota this week to attend the Republican National Convention, where he's filming a piece for HBO's "Real Time with Bill Maher."