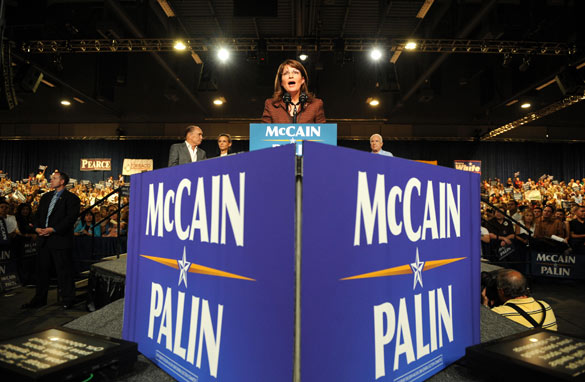 CNN has confirmed that Alaska Gov. Sarah Palin will sit down for her first television interview with a national media outlet. (Photo Credit: Getty Images)
(CNN) – Alaska Gov. Sarah Palin, Sen. John McCain's surprise pick for the VP spot on the Republican ticket, has agreed to her first television interview with a national media outlet since being named as McCain's running mate.
CNN confirms that Palin will sit down with Charles Gibson of ABC News later this week; the exact date has yet to be announced.
According to the McCain campaign, Palin will stay on the campaign trail through this Wednesday and then return home to Alaska where she will speak at a ceremony marking the deployment of her eldest son's Army unit to Iraq on September 11. Palin's interview with Gibson will be conducted near the end of the week.
Since the McCain campaign picked Palin as the Arizona senator's running mate, the media has delved into her background and criticized Palin and the McCain camp for not making her more available to the media. Before Palin's selection, she was a virtual unknown on the national political scene while one of McCain's trademarks since mounting his first run for the White House eight years ago has been accessibility to the press.
UPDATE, 3:15 p.m.: CNN Correspondent Dana Bash has confirmed additional details about the upcoming interview: According to a McCain aide, the plan is for Gibson to have time with Palin over two days - Thursday and Friday of this coming week. The interview will be part sit-down, part walk-and-talk at various locations in Alaska.