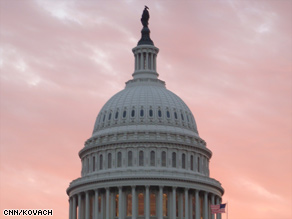 CNN: Palin shoves Biden out of the spotlight
With Gov. Sarah Palin getting so much attention these days, Sen. Barack Obama's running mate, Sen. Joe Biden, is being elbowed out of the vice presidential spotlight.
Washington Post: Palin Billed State for Nights Spent at Home; Taxpayers Also Funded Family's Travel
Alaska Gov. Sarah Palin has billed taxpayers for 312 nights spent in her own home during her first 19 months in office, charging a "per diem" allowance intended to cover meals and incidental expenses while traveling on state business.
WSJ Op-ED: Sen. John McCain and Gov. Sarah Palin: We'll Protect Taxpayers From More Bailouts
The bailout of Fannie Mae and Freddie Mac is another outrageous, but sadly necessary, step for these two institutions. Given the long-term mismanagement and flawed structure of these two companies, this was the only short-term alternative for ensuring that hard-working Americans have access to affordable mortgages during this difficult economic period.
CNN Radio: The polls have it...the race is a dead-heat
Not a lot of undecideds! Sarah Palin still tethered to John McCain! Obama slipping! Bob Costantini has today's CNN Radio Political Ticker.
WSJ: In Palin's Past, the Personal Got Political; An Aide's Affair May Have Become Grounds for Firing
Sarah Palin and John Bitney go way back. They were in the same junior-high band class. Mr. Bitney was a key aide in Gov. Palin's 2006 gubernatorial campaign. When she took office, she gave Mr. Bitney a job as her legislative director, and a few months later stood beside him at a news conference and praised his work.
AP: A Hillary vs. Sarah smackdown? Don't bet on it
Anyone wanting a Hillary vs. Sarah smackdown might be in for a letdown. First, Sarah Palin launched her Republican vice presidential campaign with praise for the strides Hillary Rodham Clinton made in her quest for the Democratic presidential nomination. On Monday, Clinton spoke in kind.
NY Times: Forgoing Subsidy, Obama Team Presses Donors
After months of record-breaking fund-raising, a new sense of urgency in Senator Barack Obama's fund-raising team is palpable as the full weight of the campaign's decision to bypass public financing for the general election is suddenly upon it.

WSJ: Bailout Hits U.S. Agenda
The housing crisis appears likely to be the next president's No. 1 domestic priority, sapping time and taxpayer dollars from some of the other initiatives that candidates John McCain and Barack Obama have proposed.
AP: McCain uses Palin as fundraising tool
Republican John McCain seized on running mate Sarah Palin's popularity to raise money for the party, telling donors at a $4 million fundraiser Monday that he's overwhelmed by the buzz she's generating for his White House bid.
LA Times: Obama fans out, McCain stays put as strategists scour electoral map
Entering the final stage of the race, the two presidential campaigns are plotting strategies that rely on vastly different readings of the electoral map, with Democrat Barack Obama competing hard in a large number of traditionally Republican states and John McCain, the GOP nominee, focusing on a small set of familiar battlegrounds.
Politico: Obama, Biden pound on the economy
With polls reporting that John McCain has surged into the lead on the strength of a post-convention bounce, Democratic running mates Barack Obama and Joe Biden hammered hard on economic themes as they campaigned across the Midwest.
Politico: McCain plans new Palin rollout
Alaska Gov. Sarah Palin will speak at her son's Army deployment ceremony on 9/11 and spend two days with ABC News crews later this week as part of a McCain campaign plan to increase Americans' comfort with her as a leader.
Politico: Lieberman returns to Hill, legislative director quits
Joe Lieberman returned to Capitol Hill today - his first day back since speaking at the GOP convention - and was greeted by the resignation of his $120,000-a-year legislative director Joe Goffman.
LA Times: Bush to focus on Afghan civilian deaths, U.S. troop transfers
In a speech today, he is expected to express regret for deaths but also say 'there will be times' when innocent lives are lost. He will also announce the transfer of some Iraq forces to Afghanistan.
WSJ: Palin's Star Power Can Outshine McCain
Sarah Palin has become the new phenomenon on the campaign trail, at times overshadowing her workmanlike running mate, John McCain, with a pugnacious, sarcastic speaking style that whips up crowds and wins over voters who had never heard of her two weeks ago.
AP: Obama puts heat on Palin as she boosts GOP ticket
Listening to Barack Obama, it can seem like Republican vice presidential nominee Sarah Palin is the main person standing between him and the White House instead of John McCain.
AP: Obama embraces charter schools in education plan
Barack Obama is promising to double funding for charter schools and replace inferior teachers, embracing education reform proposals normally more popular with Republican candidates.
CNN: Pastor: GOP may be downplaying Palin's religious beliefs
For more than two decades, current Alaska Gov. Sarah Palin was a practicing Pentecostal.
CNN: Head of Palin trooper probe will stay, lawmaker says
The manager of a state investigation into the firing of Alaska's Public Safety commissioner won't be removed for suggesting the investigation could yield an "October surprise" for Gov. Sarah Palin, a key lawmaker announced Monday.
Washington Post: Palin & Press: A Testy Start
From the moment Sarah Palin stepped onto the national stage, she was mauled, minimized and manhandled by an openly skeptical media establishment.
Washington Post: 'The Original Mavericks,' or 'More of the Same'?
John McCain is using this ad to try to reclaim the "maverick" label once routinely attached to his name, before he embraced the Republican right more tightly in seeking the presidential nomination.
CNN: Bush to announce Iraq troop reduction
President Bush will announce Tuesday a plan to withdraw about 8,000 U.S. troops from Iraq over the next several months even as he beefs up the U.S. military presence in Afghanistan.
WSJ Op-ED: Dan Senor: Iraqi Leaders Opposed Biden's Partition Plan
On Sunday's "Meet the Press," Sen. Joseph Biden made a series of stunning arguments in defense of his plan for segregation of Iraq along ethnic and sectarian lines. When Mr. Biden first announced his partition plan in May 2006, Iraqi leaders and U.S. officials understood it to mean the establishment of strong Sunni, Shiite and Kurdish regional administrations. The Biden plan would have also begun a phased redeployment of U.S. troops in 2006 and withdrawn most of them by the end of 2007.
Washington Post: Second-Guessing The No. 2 Spot; VP Role Has Confused Folks From Day One
The great edifice that is the United States Constitution has always had eccentricities, wobbly parts, some joists held together with duct tape. From one edge juts a curious protrusion, an architectural afterthought. It is called the vice presidency.
NY Times: To Have (as a Running Mate), and to Hold (Politely)
For now, the rule is simple: Hug your running mate, kiss your wife. When Senator John McCain, the Republican presidential nominee, came out on stage to congratulate his running mate, Gov. Sarah Palin of Alaska, after her acceptance speech at the Republican National Convention in St. Paul last week, he gave her a hug, not a handshake.
Washington Post: Miss Alaska '84 Recalls Rival's Winning Ways
Oh, yes, indeed, Maryline Blackburn remembers Sarah Palin. From the time she first met her fellow contenders for the title of Miss Alaska 1984, the flute player from Wasilla was one who stood out from the crowd.
AP: It's near the campaign's end _ send in the lawyers
Four years after Ohio's near meltdown on Election Day, state officials had a novel idea: Put all the political lawyers in one room and ask them to work things out in advance this time. Good luck with that.
CNNMoney.com: Democrats compromise on oil drilling
Congressional Democrats want tax breaks for big oil companies repealed in return for supporting expanded off-shore oil drilling.
Washington Times: Abramoff associate charged Ex-congressional aide accused of conspiracy
A former congressional aide who became an associate of Jack Abramoff is the latest Washington power broker to be charged in a lobbying scandal that continues to rock Capitol Hill.
CNN: White House rejects claim in new Woodward book
The White House on Monday firmly rejected new allegations that President Bush ignored commanders in Iraq and top military advisers in Washington when he decided to send more troops to Iraq in 2007.
CNNMoney.com: In Fannie mess, McCain and Obama play to type
Republican blasts 'cronyism' that led to problems. Dem notes the complexity of a clean-up.
CNNMoney.com: Fannie, Freddie rescue won't end housing woes
Bailout of Fannie and Freddie might lower mortgage rates but it's unlikely to lead to a quick turnaround for the troubled housing market.
CNNMoney.com: Paulson changes the rules of the capital game
By taking control of Fannie and Freddie, the Treasury Secretary risks making it harder for other troubled financial firms to raise money.
CNN: Rice: Not enough blacks at State Department
Secretary of State Condoleezza Rice said Monday there are too few black Americans in the State Department.