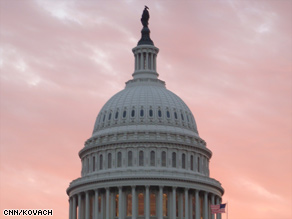 Chicago Sun-Times: Biden isn't afraid of Palin
Democratic vice-presidential nominee Joe Biden assured a crowd of donors in Lincoln Park Tuesday night that he would handle himself just fine in his debate with Alaska Gov. Sarah Palin.
CNN: McCain ahead in national polls; Obama up in electoral votes
Sen. John McCain has inched ahead of Sen. Barack Obama in national polls, but the Democratic candidate holds a steady lead in the most recent Electoral College estimates.
Financial Times: Five swing states could hold key to the Oval Office
They said that a contest between Barack Obama and John McCain could redraw the electoral map in the US. However, as polling day draws closer and the campaigns reveal their priorities in where they spend their money and locate field offices, all of a sudden 2008 is starting to look like 2004.
CNN Radio: Open political warfare as troops are withdrawn and Truth Squads deployed
Iraq becomes a campaign issue again, Obama's not worried about the Palin factor, and remember Ron Paul? Bob Costantini has more in today's CNN Radio Political Ticker.
CNN: Fact Check: McCain-lobbyist connections
Republicans say Sen. John McCain and his vice presidential running mate, Sarah Palin, are mavericks. But in a new ad, Sen. Barack Obama's campaign says not so fast - they're no maverick reformers.
USA TODAY: McCain raises cash while limited to public funds
Republican John McCain is asking donors to give far in excess of what they can contribute to him directly, even as he is limited to taking only public funds for the fall campaign.
AP: No questions, please; Palin sticks to her script
John McCain took a risk in picking little-known Alaska Gov. Sarah Palin as a running mate, but now the campaign's playing it safer. She's sticking to a greatest hits version of her convention speech on the campaign trail and steering clear of questions until she's comfortable enough for a hand-picked interviewer later this week.
 
NYT: Campaigns Adjust Their Pace to Meet Short Season
Senators John McCain and Barack Obama are confronting a sharply abbreviated general election campaign season, the product of the late nominating conventions and a boom in early voting in tightly contested states.
CNN: Palin's budget choices praised, criticized
While Democrats have questioned her budget priorities, some Alaskans see Gov. Sarah Palin as a modern-day Robin Hood who has slashed government spending and given money to the people.
CNN: Palin backed 'bridge to nowhere,' then opposed it
Republican vice presidential candidate Sarah Palin's boast to have opposed the infamous "bridge to nowhere" is a staple of the Alaska governor's stump speech, but her record is more complicated than the one-liner.
NYT: For '08 Rivals, a Skein of Ties to Loan Giants
Senators Barack Obama and John McCain each cite the mess at Fannie Mae and Freddie Mac as a consequence of the corrosive coziness of lobbyists and politicians that they promise to end.
Washington Post: As Campaign Heats Up, Untruths Can Become Facts Before They're Undone
From the moment Alaska Gov. Sarah Palin declared that she had opposed the infamous "Bridge to Nowhere," critics, the news media and nonpartisan fact checkers have called it a fabrication or, at best, a half-truth. But yesterday in Lebanon, Ohio, and again in Lancaster, Pa., she crossed that bridge again.
LA Times: House Democrats consider aid plan for auto industry
The $25-billion rescue package would provide low-interest loans to automakers for the development of fuel-efficient cars and mean more jobs in key election battlegrounds
NYT: Feeling a Challenge, Obama Sharpens His Silver Tongue
A new character is making a debut at Senator Barack Obama's campaign rallies: His name is John McCain.
NYT: Palin Aides Defend Billing State for Time at Home
Responding to criticism from Democrats, campaign aides to Gov. Sarah Palin on Tuesday defended her practice of billing Alaska taxpayers for more than 300 nights she spent at home in her first year-and-a-half in office.
USA TODAY: Palin did not ban books in Wasilla as mayor
Despite a national discussion about whether Republican vice presidential nominee Sarah Palin sought to ban books as mayor more than a decade ago, the city says there is no record of any books being yanked from the shelves.
WSJ: Obama Campaign Sets Sights On Familiar Territory
For a view of Barack Obama's Election Day strategy, look no further than his campaign-event calendar. A few months ago, the rhetoric coming out of the Obama camp was that the Democratic presidential nominee's victory could be sweeping, coming from flipping deep Republican states in the West or the South.
Financial Times: Brown breaks convention to praise Obama
Gordon Brown broke with political convention on Tuesday by offering effusive praise for Barack Obama, the Democratic presidential candidate, at a time when foreign leaders are meant to maintain a careful neutrality ahead of the US election.
Politico: Obama aide questions McCain's honor
The Obama campaign took its most personal shot ever at Sen. John McCain (R-Ariz.) on Tuesday evening, questioning his honor over a claim in a new TV ad that the Democrat calls "perverse." The issue was a new McCain advertisement belittling Obama's record on education, and accusing him of supporting sex education for kindergartners.
WSJ Op-Ed: Mayor Michael Bloomberg: There Should Be No More Excuses At Ground Zero
The eyes of the world will again turn to Lower Manhattan this week as we mark the seventh anniversary of September 11, and as we remember all those we lost on that tragic day.
Richmond Times-Dispatch: Obama called 'friend of coal'
Hoping to woo coalfield voters who overwhelmingly spurned him in February's Democratic presidential primary, Sen. Barack Obama told a crowd in Appalachian Virginia yesterday that coal - crucial to the local economy - is key to America's future.
USA TODAY: Polls: Latinos favor Obama in 3 important battleground states
New data released at the Congressional Hispanic Caucus Institute's annual meeting Tuesday show that the Latino vote could be "crucial" for Barack Obama to win this fall, pollster Sergio Bendixen said.
NYT: Code Words Hint of Race in Campaign, Paterson Says
Gov. David A. Paterson said on Tuesday that he detected "overtones of potential racial coding" in the presidential campaign, drawing a sharp retort from the campaign of Senator John McCain, the Republican candidate.
CNN: Obama dishes out tough talk on education
Sen. Barack Obama on Tuesday detailed his plan to strengthen the education system and charged that the Bush administration's "failure to act has put our nation in jeopardy."
CNN: McCain camp responds to Obama's education ad
As Senator Joseph I. Lieberman stepped tentatively onto the Senate floor on Monday night to record his first vote since casting his lot with Senator John McCain at the Republican National Convention, he was quickly encircled by his Republican friends, with Senator Susan Collins providing a reassuring hug.
NYT: McCain Calls for Limited U.S. Role in Schools
In comparison to Senator Barack Obama's education plan, Senator John McCain's is downright terse.
CNN: McCain camp says 'lipstick on a pig' is trip through the mud
John McCain's campaign said Tuesday Barack Obama's reference to "lipstick on a pig" to describe the Republican's vow to bring change to Washington was offensive language, and a slap at VP nominee Sarah Palin – despite the fact that the Arizona senator himself used the phrase last year to describe a policy proposal of Hillary Clinton's.
CNN: Maher sounds off on Palin
Watch comedian and political commentator Bill Maher as he discusses the presidential race with The Situation Room's Wolf Blitzer.
WSJ Op-Ed: Sen. Jim DeMint: Yes, Palin Did Stop That Bridge
In politics, words are cheap. What really counts are actions. Democrats and Republicans have talked about fiscal responsibility for years. In reality, both parties have a shameful record of wasting hundreds of billions of tax dollars on pork-barrel projects.
NYT: Rangel Owes U.S. Back Taxes on Villa, Lawyer Says
Representative Charles B. Rangel, chairman of the Congressional committee that writes the nation's tax code, failed to pay an unspecified amount in federal taxes during the past five years on rental income from a villa he owns in the Dominican Republic, his lawyer said on Tuesday.
Washington Post: Obama Says McCain Has Erred by Focusing on Change
Sen. Barack Obama fought back yesterday against Democratic concerns that Sen. John McCain has seized the initiative in the presidential race, arguing that the conventions did little to change the structure of the election and that his rival made a major miscalculation by focusing the choice on who can do more to change Washington.
NYT: Obama Looks to Lessons From Chicago in His National Education Plan
Senator Barack Obama learned how hard it can be to solve America's public education problems when he headed a philanthropic drive here a decade ago that spent $150 million on Chicago's troubled schools and barely made a dent.
CNN: Men's support gives Palin edge in latest poll
When it comes to support for Republican vice presidential nominee Sarah Palin, a new national poll suggests men and women don't see eye to eye.
CNN: McCain must embrace Palin's beliefs, evangelical leader says
Her faith is one of the reasons many evangelical Christians are excited about Sarah Palin's addition to the Republican presidential ticket, but the Alaska governor's evangelical beliefs have also drawn scrutiny.
Washington Post: Maybe It's Time We Redefined Manliness
Maybe if he had a swagger like Marion Barry or a knack for vicious hyperbole like Jesse L. Jackson Sr. or a military bearing like Colin Powell. Then, perhaps, Barack Obama could put an end to questions about his masculinity.
CNN: Battleground 2008: Obama's fight for Ohio
At the bustling Market Street Cafe, there is a good vibe for the Democrats: The half-dozen younger workers in the kitchen are all for Sen. Barack Obama and excited about voting come November.
Real Clear Politics: Congress Returns To Low Expectations
Members of Congress returned to Capitol Hill this week for what will be their final three weeks of work before Election Day.
AP: Bishops criticize Biden's abortion statements
Two prominent U.S. Catholic bishops said Tuesday that Democratic vice presidential nominee Joe Biden contradicted church teaching by saying in a weekend interview that determining when human life begins is a "personal and private" matter of religious faith he would not impose on others.
WOWKTV: Former Democratic Presidential Candidate Praised Republican V.P. Choice
Charleston - A former Democratic Presidential Candidate was in Charleston Saturday. Former Alaska Senator Mike Gravel is promoting his latest book while also campaigning for Jesse Johnson, the Mountain Party candidate for Governor of West Virginia.
AP: Al Franken wins Senate nod amid 7 state primaries
Comedian Al Franken grabbed the Democratic nomination Tuesday for U.S. Senate in Minnesota, setting up a showdown with Republican Sen. Norm Coleman.
CNN: Bush shifting U.S. troops from Iraq to Afghanistan
President Bush on Tuesday announced a troop deployment shift for America's two wars, a move that reflects a more stable Iraq and an increasingly volatile Afghanistan.
CNN: Army suicide rate could top nation's this year
The rate of suicides among-active duty soldiers is on pace to surpass both last year's numbers and the rate of suicide in the general U.S. population for the first time since the Vietnam war, according to U.S. Army officials.
NYT: This Author's Schedule Is Busy but Selective
Senator John McCain's daughter Meghan, who writes the blog McCainBlogette, is on a tear of television and radio appearances this week to publicize "My Dad, John McCain."