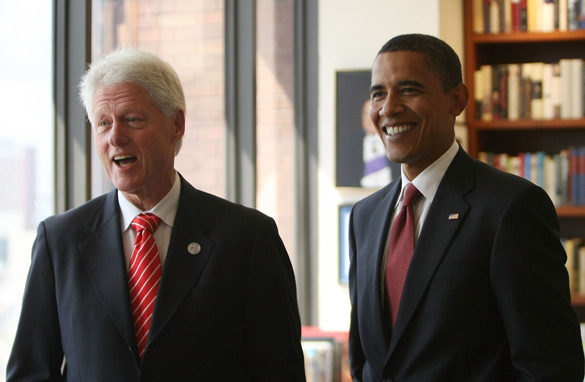 Sen. Obama met with former president Clinton in Harlem Thursday in their first extended sit-down meeting since Obama defeated Sen. Hillary Clinton in the Democratic primaries. (Photo Credit: Getty Images)
NEW YORK (CNN) - Former President Bill Clinton predicted Barack Obama will "win" this fall's election and "will win pretty handily."
The two men chatted with reporters in a photo-op at Clinton's Harlem office before sitting down for a private lunch.
Clinton is scheduled to campaign for Obama in Florida later this month. According to aides, the former president will appear at a mix of fundraisers and campaign events on behalf of the Democratic ticket throughout the fall.
"We're putting him to work," said Obama.
Clinton said he'd "agreed to do a substantial number of things, whatever I'm asked to do."
Obama smiled at Clinton's prediction that he would take the White House: "There you go, you can take it from the President of the United States. He knows a little something about politics."
The image of the two men meeting comes as a relief to many Democrats who have been hoping to put to rest the "Clinton-Obama rift" storyline. Both Clintons praised Obama in their convention speeches, but agreed a face-to-face meeting with the president was a necessary step in putting the contentious primary season behind both camps.
The two men were said to be dining on a mix of sandwiches, salads and pizza from the lunch chain Cosi.