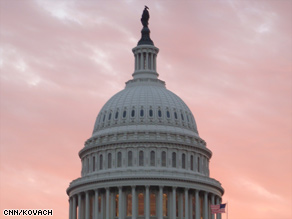 AP: Obama mocks McCain as computer illiterate
John McCain is mocked as an out-of-touch, out-of-date computer illiterate in a television commercial out Friday from Barack Obama as the Democrat begins his sharpest barrage yet on McCain's long Washington career.
AP: Palin administration may fight subpoenas in court
Gov. Sarah Palin's administration is threatening to block any subpoenas by the Alaska Legislature as it investigates whether she abused her authority in trying to have her former brother-in-law fired as a state trooper.
CNN: McCain, Obama find common ground on national service
Sens. John McCain and Barack Obama showed Thursday night that they have more common ground than differences when it comes to making national service a priority in their presidential administrations.
USA TODAY: Palin 'governed from the center,' went after big oil
Weeks after taking office as Alaska's governor in December 2006, Sarah Palin vetoed a bill that sought to ban benefits for the same-sex partners of state workers. It was unconstitutional, she said.
CNN Radio: Candidates come together, Palin answers tough questions
Joining together to remember America's darkest day. And Sarah Palin faces a media inquisitor! Bob Costantini has today's CNN Radio Political Ticker.
Washington Post: Palin Links Iraq to Sept. 11 In Talk to Troops in Alaska
Gov. Sarah Palin linked the war in Iraq with the Sept. 11 terrorist attacks, telling an Iraq-bound brigade of soldiers that included her son that they would "defend the innocent from the enemies who planned and carried out and rejoiced in the death of thousands of Americans."
NY Observer: Team Clinton Says Obama Intimidated By Palin Factor
The harshest thing Hillary Clinton could come up with about Sarah Palin at a Sept. 6 campaign event at Wagner College on Staten Island was that there was no evidence at the convention in St. Paul to suggest Republicans would "guarantee equal pay for equal work for women."
People.com: Live, From New York: Barack Obama!
Michael Phelps isn't the only person hoping to make waves on the season premiere of Saturday Night Live this weekend.
AP: Mass. lawmakers, unopposed, spend cash freely
Car leases, holiday parties, new office furniture and meals at high-end restaurants are just some of the ways top Massachusetts lawmakers, unopposed at the ballot box, are choosing to spend their campaign donations.
CNN: Live-blogging with The Best Political Team
See what the Best Political Team on Television had to say about Thursday's forum with the candidates.
Washington Times: 'Values voters' eye a leader in Palin as others fade
Gov. Sarah Palin has seemingly overnight become the leading candidate for future leader of the conservative movement in the nation – regardless of whether she and running mate Sen. John McCain capture the White House in November.
AP: Pentagon to campaigns: Troops, bases aren't props
Before Sarah Palin spoke at a ceremony Thursday for her son's Army brigade, bound for Iraq, the Pentagon sent a message of its own to the Republican vice presidential candidate: Watch your language.
WSJ: Black Voters Fret Over Obama; Close Election Spurs Nervousness, Anger; A Boon to Turnout?
An anxious murmur is rising among black voters as the presidential race tightens: What if Barack Obama loses? Black talk-show hosts and black-themed Web sites are being flooded with callers and bloggers reflecting a nervousness - and anger - over the campaign.
NYT: U.S. Finds Rampant Errors by Commercial Tax Services
A Senate subcommittee pressed the Internal Revenue Service on Thursday to step up efforts to stop complex offshore arrangements that let foreign citizens avoid taxes on dividends paid by American companies.
WSJ: Economic Woes Seen Greeting President
The next U.S. president will be confronted with slow growth, high unemployment and an economy teetering toward recession, say 51 private economists surveyed by The Wall Street Journal.
CNN: Palin takes tough stance on Russia
NATO should extend membership to two former Soviet republics, and any Russian invasion of a NATO state could lead to a conflict with the U.S., Republican vice presidential candidate Gov. Sarah Palin told ABC News.
NYT: In First Big Interview, Palin Says, 'I'm Ready'
For the last two weeks, Democrats and even some Republicans have asked: Does Gov. Sarah Palin of Alaska have enough experience to hold the second-highest office in the nation, or the presidency if the need arises?
Washington Post: Who Do We Think She Is?
Alaska Gov. Sarah Palin's nomination as the Republican vice presidential candidate has stirred the hypocrite within us. Women judging women.
WSJ: Palin's Style Sparks Buying Frenzy, And Fashion Firms Rush to Cash In
Fashion companies have discovered a lucrative new marketing vehicle: Sarah Palin. Since John McCain chose her last month as his running mate, Gov. Palin's personal style has sparked a buying frenzy.
NYT: A Way of Life for Alaskans on Ice Skates
Like many parents here in the communities near Anchorage, Sarah Palin raised her older children in hockey rinks.
Washington Post: Candidates Promise National-Service Initiatives
Sens. Barack Obama and John McCain pledged to inspire a new commitment to public service Thursday, as they set aside the rancor of an intense presidential campaign during a two-hour forum on the seventh anniversary of the Sept. 11 attacks.
NYT: Hanging On to Biden's Every Word
Senator Joseph R. Biden Jr., the Democratic vice-presidential candidate, is an experienced, serious and smart man. But, boy, does he say some curious things. A day on the campaign trail without a cringe-inducing gaffe is a rare blessing. He has not been too blessed lately.
NYT: Health Care Issue, Not Quite Hot, Remains Strong
When Representative Tom Price spoke to the Roswell Kiwanians the other day, the first three questions concerned health care. When he appeared four days later before the Sandy Springs Rotarians, no one asked about it at all.
CNN: McCain, Obama joint appearance planned last week
The idea of a joint September 11 visit to Ground Zero by both John McCain and Barack Obama was in the works for less than a week, according to both campaigns.
Washington Post: A Tangled Story of Addiction
When Cindy McCain is asked what issues she would champion as first lady, she often cites one of the most difficult periods of her life: her battle with - and ultimate victory over - prescription painkillers. Her struggle, she has said repeatedly, taught her valuable lessons about drug abuse that she would pass on to the nation.
WSJ: In North Carolina, Libby Dole Battles Foe, Own Party's Baggage
Six years ago, Elizabeth Dole won a Senate seat based on a long record in Washington and powerful ties to top Republicans. Few thought her re-election was in doubt.
CNNMoney.com: Democrats call for 90-day foreclosure freeze
Senators urge Fannie Mae and Freddie Mac not to foreclose on mortgages they hold and help borrowers stay in homes.
CNNMoney.com: Lehman in the red zone
On Wednesday, Lehman Brothers CEO Dick Fuld offered up a radical plan to save his beleagured firm. Today the capital markets are giving him the thumbs down.
Washington Post: YouTube Bans Videos That Incite Violence
The video-sharing service YouTube is banning submissions that involve "inciting others to violence," following criticism from Sen. Joseph I. Lieberman (I-Conn.) that the site was too open to terrorist groups disseminating militant propaganda.
Washington Post: Washington's Last Corner Of Camelot Is On the Market
Another piece of history for sale: the Potomac home of Eunice and Sargent Shriver, the last of the Kennedy family estates in the Washington area. We've learned that the 16,000-square-foot mansion will be listed Monday for $11.8 million.