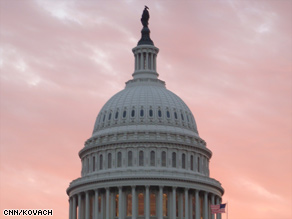 AP: Economists take critical view of health plans
John McCain's health plan won't lower the ranks of the uninsured. Barack Obama's fails to curb the soaring cost of health care, meaning initial gains in helping more people buy health insurance would eventually be undermined.
International Herald Tribune: Obama and McCain strive to break through media fog
Senator Barack Obama had come to Granby High School in Norfolk, Virginia, last week to talk about education. But first, he said, "I've got to spend just a brief moment talking about politics."
Financial Times: World opinion counts too in America's poll
One of the more comic episodes during the last US presidential election was the effort by Britain's Guardian newspaper to influence the vote.
WSJ: Creamery Case Has Palin Critics Taking Aim at Fiscal-Conservative Claim
Republican vice-presidential nominee Sarah Palin promotes herself as a small-government conservative. But when Alaska government officials wanted to shut down a money-losing creamery, the governor overturned the decision after dairy farmers near her hometown complained the loss of subsidies would cripple them.
CNN Radio: Candidates agree "it's the economy" but disagree on "fundamentals"
The Wall Street slide is tumbling fast onto the presidential campaign. A big question: what exactly are "fundamentals" of the economy anyway? Lisa Desjardins has today's CNN Radio Political Ticker.
AP: Some firms get bailouts, some don't. Unfair?
Bear Stearns got one. Lehman Brothers didn't. Life can seem unfair in the world of government bailouts. But decisions about who gets help from the government are based on circumstances and pressure generated by the political or financial crisis of the moment.

WSJ: Wall Street's Woes Challenge Both Candidates
In his reaction to the Wall Street meltdown, John McCain is playing the part of Teddy Roosevelt, man of the people: Don't use taxpayer money to bail out greedy financial titans, he says, and don't be afraid to regulate Wall Street.
WSJ: Wall Street Political Donations Set to Slow
Barack Obama and John McCain blamed executive greed Monday for the turmoil in financial markets. But both men, and their parties, have relied heavily on Wall Street cash to fuel their campaigns, and the slowdown threatens to dry up that lucrative source of donations.
Washington Post: Cheney Linked Hussein to Al-Qaeda, Ex-GOP House Leader Says in Book
A GOP congressional leader who was wavering on giving President Bush the authority to wage war in late 2002 said Vice President Cheney misled him by saying that Iraqi President Saddam Hussein had direct personal ties to al-Qaeda terrorists and was making rapid progress toward a suitcase nuclear weapon, according to a new book by Washington Post investigative reporter Barton Gellman.
Washington Times: Gunning for victory risky for Obama
Democratic presidential nominee Sen. Barack Obama's hopes for carrying Montana have diminished over the past few months, and Montanans say it comes down to one word: guns.
CNN: Palin makes first foray into fundraising for McCain
In her first fundraising effort on behalf of the McCain campaign, Sarah Palin raised just under $1 million, according to the host of the event.
CNN: McCain pulls in big donations, smaller crowds
Republican presidential candidate John McCain told a private audience Monday night that "no matter what you see in the polls," he and Sarah Palin are underdogs.
Politico: Cash-poor Obama says no to Reid
Earlier this month, Senate Majority Leader Harry Reid made a personal appeal to Barack Obama: Help me grow the Democrats' Senate majority by sharing some of the $77 million you've got in the bank. Obama's campaign said no.
WSJ: Economic-Stimulus Plan Lacks Bipartisan Backing
House Democratic leaders plan to push for action on a $50 billion economic-stimulus package, betting that financial-market turmoil will overcome Republican reluctance to spend more on highways and bridges.
Washington Post: Gender Politics In Ohio: Clinton Mostly Ignores Palin
Halfway through September, in the sprint to Election Day, and the scene at a sweltering gym in this rusted, blue-collar city looked like one of those marathon days back in April.
NYT: Interest Groups Step Up Efforts in a Tight Race
After largely staying on the sidelines, the types of independent groups that so affected the 2004 presidential campaign are flooding back as players in the final sprint to the election this fall, financing provocative messages on television, in mailboxes and through the Internet.
NYT: No Plea Deal for Ex-Aide to the Mayor of Detroit
Mayor Kwame M. Kilpatrick's former chief of staff, with whom the mayor had an affair, rejected a plea deal on Monday and appears headed to trial on perjury and other felony charges.
Politico: Jefferson still has a shot in Louisiana
Even as he faces a 16-count federal indictment on charges that include racketeering and soliciting bribes, Rep. William Jefferson (D-La.) may be down, but he isn't out. At least not yet.
NYT: Yet Another Election Drama Swirls in Palm Beach County
For more than two weeks, Palm Beach County voters have watched with dismay as a local election has devolved into a small-scale sequel of the presidential recount eight years ago, with disappearing ballots, lawsuits and confusion over who won and lost.
Politico: GOP gets no love from musicians
What is it with Republicans and musical artists? Bruce Springsteen got piping mad when Ronald Reagan used "Born in the U.S.A." on the campaign trail in 1984. Then Tom Petty threatened to sue George W. Bush in 2000 when the then-presidential hopeful co-opted "I Won't Back Down."
NYT: Bloomberg Draws on Old Ties in Dealing With Crisis
As New York City's banking industry descended into turmoil last weekend, Mayor Michael R. Bloomberg picked up the telephone for a painful conversation with the president of Merrill Lynch, Gregory J. Fleming.
Washington Post: U.S. Judge Reverses Plan to Expand Snowmobile Access in National Parks
Handing environmentalists a major victory, a federal judge yesterday overturned the Bush administration's plan to allow hundreds more snowmobiles to traverse Yellowstone and other iconic national parks each winter.
Washington Post: Red Cross Asks Congress For Millions in Storm Aid
The American Red Cross, which is plunging into debt to provide relief after back-to-back Gulf Coast hurricanes, said yesterday that it has asked Congress for $150 million in emergency funding to replenish its disaster relief reserves.
NYT: Capitol Strives to Define 'Homeless'
With unemployment and foreclosures rising and growing numbers of families struggling to find affordable housing, lawmakers in Congress are debating who should be considered homeless.
Washington Post: Former Contractor To Plead Guilty in Passport Files Case
A former State Department contractor will plead guilty to illegally accessing the electronic passport records of high-profile politicians, entertainers and other Americans, his lawyer said yesterday.