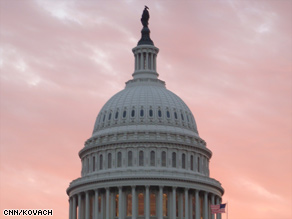 CNN: Prominent Clinton backer and DNC member to endorse McCain
Lynn Forester de Rothschild, a prominent Hillary Clinton supporter and member of the Democratic National Committee's Platform Committee, will endorse John McCain for president on Wednesday, her spokesman tells CNN.
NYT: Detroit Faces $3 Million Election for an 8-Month Mayor
Although some residents might argue that Mayor Kwame M. Kilpatrick's efforts to cover up an affair with his chief of staff have cost this cash-starved city enough money, Detroit plans to spend as much as $3 million more on a special election to replace him.
CNN: Palin 'phenomenon' hijacks online sales
For the first time since the start of the election, merchandise for John McCain's campaign rivals sales of Barack Obama gear at CafePress, an online store specializing in user-generated T-shirts.
CNN Radio: Financial Shockwaves reverberate on the campaign
Wall Street woes and average American worries have the candidates jabbing each other in speeches and TV ads. And should Blackberry come out with a new McCain model? Bob Costantini has today's CNN Radio Political Ticker.
CNN: House OKs bill allowing more offshore oil drilling
The House of Representatives on Tuesday night passed an energy bill clearing the way for more oil drilling off U.S. coasts, but not nearly as much as Republican leaders wanted.
CNN: Fiorina's comment called 'Biden-like'
Top McCain-Palin official Carly Fiorina is facing criticism from some within the campaign for a day of what they call "very Biden-like" comments, after the former Hewlett-Packard CEO told two separate interviewers that neither member of the Republican ticket would be capable of running a company.
Politico: Pelosi orders wide Wall Street probe
House Speaker Nancy Pelosi has ordered a broad, swift investigation of Wall Street and will demand testimony from Bush administration officials and captains of finance, congressional officials said.
CNN: Obama looking to turn Indiana blue
With the pump reading $4.29 a gallon, many of the gas station's patrons are more than a little grumpy. But, one by one, they are approached by Dominique Morson.
AP: Obama still favored in Wis. but race is tighter
John McCain has worked himself back into a tight race with Barack Obama in Wisconsin, a state that Democrats had hoped would be a stronghold for the Illinois senator.
USA TODAY: Poll shows support for torture among Southern evangelicals
A new poll finds that nearly six in 10 white Southern evangelicals believe torture is justified, but their views can shift when they consider the Christian principle of the golden rule.
NYT: Palin triggers feminism reversal
The old partisan thinking about motherhood and the workplace has been rapidly reversed in America by the McCain-Palin ticket.
NYT: Getting In Palin's Hair, or Close to It
While any girl or boy can, technically, grow up to be president, only Tina Fey can become Sarah Palin, at least on "Saturday Night Live."
LA Times: Barack Obama raises millions in Beverly Hills
It was clear why Barack Obama's campaign barred television crews from a Beverly Hills mansion at twilight Tuesday as the Democratic presidential nominee mingled with movie stars on a giant terrace overlooking Los Angeles.
NYT: McCain Laboring to Hit Right Note on the Economy
On Monday morning, as the financial system absorbed one of its biggest shocks in generations, Senator John McCain said, as he had many times before, that he believed the fundamentals of the economy were "strong."
The Guardian: Democrats ask court to defend right to vote
The Obama campaign yesterday went to court to block what it alleged was an attempt by Republicans in Michigan to stop people who lost their homes in the mortgage crisis from voting in November's election.
DC Examiner: McCain avoids saying 'Bush' on the stump
Throughout the presidential campaign, analysts have mentioned ad nauseum that Barack Obama is trying to identify John McCain with the policies of President Bush, while McCain is doing his best to run from those policies.
NYT: Abortion Issue Again Dividing Catholic Votes
Until recently, Matthew Figured, a Sunday school teacher at the Holy Rosary Roman Catholic Church here, could not decide which candidate to vote for in the presidential election.
LA Times: Move over, Al Gore: John McCain invented the BlackBerry
A McCain campaign staffer attributes the creation of the technological device to the work of the Senate commerce committee - of which McCain is a veteran member.
Politico: GOP group behind negative Obama poll
A Republican group is taking responsibility for a poll that has roiled the Jewish community by asking sharply negative questions about Senator Barack Obama.
USA TODAY: 'Japan's Hillary' makes bid for prime minister
Hillary Rodham Clinton and Sarah Palin aren't the only women taking a whack at the political glass ceiling this year. In Japan, a woman for the first time is attempting to become president of the ruling Liberal Democratic Party (LDP) — a position that would make her the country's next prime minister.
USA TODAY: Palin's former minister comes under scrutiny
The Rev. Ed Kalnins had no way of knowing he'd be a controversial figure in the 2008 presidential race when he became pastor of a small Pentecostal church in Alaska nine years ago.
Washington Post: U.S. House, D.C. Council Wrestle Over Gun Control
The struggle to regulate guns in the District in light of a historic U.S. Supreme Court ruling sparked competing legislative efforts yesterday as members of Congress debated taking control of the issue and the D.C. Council implored them to leave it in local hands.
AP: Elizabeth Edwards discouraged by health care focus
Elizabeth Edwards said Tuesday she is discouraged that health care is falling on the nation's list of priorities and critiqued the plans of both leading presidential candidates.
NYT: Consumer Ads for Medical Devices Subject of Senate Panel
As makers of medical devices like artificial knees and heart stents increasingly pitch their products directly to consumers, some lawmakers, medical groups and others are calling for restrictions on such advertisements, claiming they mislead patients.