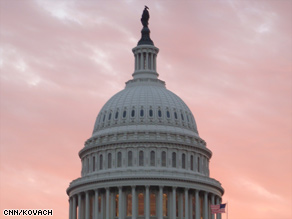 Washington Post: Lawmakers Left On the Sidelines As Fed, Treasury Take Swift Action
The frenetic pace of the financial crisis has forced the Treasury Department and Federal Reserve to make rapid-fire decisions in recent days, leaving Capitol Hill lawmakers effectively impotent - and frustrated.
Boston Globe: Amid turmoil, McCain turns to regulation
Responding to the turmoil on Wall Street, John McCain said flatly yesterday: "We need strong and effective regulation."
CNN Radio: Supporters come and go, poll numbers rise and fall
Sarah Palin takes a question, a Democrat with party credentials changes teams and Ralph Nader's run for president may be helping out Barack Obama. CNN's Lisa Desjardins has today's Political Ticker.
LA times: Financial crisis fails to get its just due with TV talking heads
It's not surprising the candidates are flummoxed by a meltdown like none we have seen in our lifetimes. But reporters need to keep asking the tough questions.
LA Times: John McCain accuses Barack Obama of scuttling immigration overhaul
With the race for the White House grown tight, Republican presidential candidate John McCain has begun using the issue of immigration to try to dent Democrat Barack Obama's lead among Latino voters, who could prove decisive in the Southwest.
NYT: A New Role for the Fed: Investor of Last Resort
The mighty Federal Reserve is being stretched to its limits, both in the range of problems it is being asked to fix and in its financial firepower.
Politico: Campaigns struggle to craft bailout response
In a testament to the political risk associated with the notion of a federal bailout, both presidential campaigns struggled Wednesday to formulate responses to the announced rescue of American International Group, the ailing insurer.
LA Times: John McCain can't seem to find his economic footing
The financial crisis has the Republican and his running mate, Sarah Palin, reversing themselves on the need for regulation.
AP: Judge says McCain is a 'natural born citizen'
A federal judge has thrown out a lawsuit seeking to remove John McCain from the California ballot because he was born in the Panama Canal Zone.
NYT: Politicians Point Fingers, Assign Blame
When the fingers of blame are pointing in all directions, as they are even while the nation's financial crisis is still unfolding, this much is inevitable: the pointers as well as the pointees are getting poked in the eyes.
Politico: Campaign-trail reporters sidelined
The flocks of campaign reporters who fly around the country with the presidential candidates have been more sidelined in the 2008 campaign than any in generations, sealed off from any meaningful access to either Sen. Barack Obama (D-Ill.) or Sen. John McCain (R-Ariz.).
Politico: GOP: Does Bush have economic plan?
Whipsawed by the government's on-again, off-again intervention in the nation's financial crisis, House Minority Whip Roy Blunt (R-Mo.) said Wednesday that congressional Republicans "don't feel like they understand the coherent strategy" of the Bush administration — "if there is one."
LA Times: Community organizers have deep roots in democracy
The title may be nebulous, but the job of helping citizens bring about change - once held by Democratic presidential nominee Barack Obama - is 'as American as apple pie.'
Seattle Times: Grass-roots group releasing Voters' Health Care Platform
Should all Americans be required to buy health coverage, much as drivers are required to carry auto insurance?
NYT: In Virginia, Large Voting Blocs for McCain and for Obama
Eight years ago, Senator John McCain outraged religious conservatives with a speech here in which he called the evangelical leaders Jerry Falwell and Pat Robertson "agents of intolerance," and described them as exerting an "evil influence" on the Republican Party.
NYT: Biden's Record on Race Is Scuffed by 3 Episodes
Senator Joseph R. Biden Jr. says he entered public life in the late 1960s dismayed by the riots of that era and inspired by the quest for racial justice.
NYT: McCain Seen as Less Likely to Bring Change, Poll Finds
Despite an intense effort to distance himself from the way his party has done business in Washington, Senator John McCain is seen by voters as far less likely to bring change to Washington than Senator Barack Obama.
NYT: Congress Passes Bill With Protections for Disabled
Congress gave final approval on Wednesday to a major civil rights bill, expanding protections for people with disabilities and overturning several recent Supreme Court decisions.
CNN: Lieberman provokes Democrats again
Democrat-turned-independent Sen. Joe Lieberman is once again annoying Senate Democrats, just two weeks after he angered them with his speech at the Republican National Convention.
USA TODAY: Evangelicals less worried about global climate change
Most respondents to the Baylor Religion Survey agree that "if we do not change things dramatically," global climate change will be "a disaster" (67%); coal, oil and natural gas will be exhausted (70%); and most plant and animal life will be destroyed (57%).
Washington Post: Anthrax Suspect Didn't Act Alone, Leahy Posits
Senate Judiciary Committee Chairman Patrick J. Leahy (D-Vt.) yesterday broke a years-long public silence about the anthrax-mailing case to cast doubt on the FBI's assertion that a bioweapons researcher acted as the lone culprit in the deadly attacks.
Washington Times: Detroit prepares for new mayor
Still reeling from its mayoral scandal, Detroit will get a new mayor Friday, when City Council President Ken Cockrel Jr. takes the oath of office in a low-key ceremony. Mr. Cockrel, a former journalist and the youngest person ever elected to the council, assumes leadership because Mayor Kwame Kilpatrick resigned Sept. 4. The new mayor joined the council in 1998.