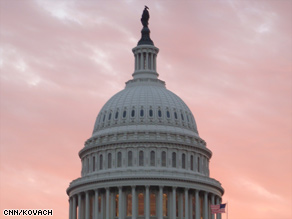 USA TODAY: Economy takes center stage ahead of foreign policy debate
Democrat Barack Obama and Republican John McCain are trying to influence the course of the Bush administration's Wall Street bailout plan as they prepare for their first debate this week.
AP: Obama to head south to prepare for debates
Democratic presidential nominee Barack Obama planned to head to Florida this week for three days of preparation for the first debate of the general election, a matchup that could reshape a tight White House race.
CNN RADIO: Congress reviews bailout plan and Obama, McCain talk economic crisis
Congress prepares for a financial bailout plan and the presidential candidates focus their sights on the economy. CNN's Bob Costantini has today's Political Ticker.
NYT: 2 Candidates Back Bailout, With Caveats
Senators John McCain and Barack Obama warned Sunday that there should be more oversight built into the government's $700 billion plan to stabilize the financial markets but said the potentially enormous expenditure would not force them to scale back their ambitious governing agendas.
LA Times: So much for a 50-state Obama campaign. Now down to 46 max
Exactly 44 years after Lyndon B. Johnson became the last Democrat to capture the state of North Dakota in a presidential election, it looks like Barack Obama won't be the next.
LA Times: Palin's policies in Alaska weighted toward development
She speaks of a balanced approach to wilderness protections, but has put energy exploration and hunting before struggling polar bears and other wildlife.
USA TODAY: Early voting starts today in some states
Voters by the thousands will begin casting ballots for president this week in an early voting process that's expected to set records this year. Residents of Virginia, Kentucky and Georgia are among the first in the nation eligible to vote in person, as well as by mail. During the next few weeks, at least 34 states and the District of Columbia will allow early in-person voting for Nov. 4 elections.
Politico: Dems say they won't get fooled again
Sen. Patrick Leahy (D-Vt.) says he's seen this movie before: The Bush administration, citing an unprecedented national threat, puts the hammer on Congress to ram through gargantuan legislation with a minimum of review — and the murkiest of repercussions.
AP: Obama, McCain, parties level the playing field
For all Barack Obama's remarkable fundraising and sizable surplus, the Democratic presidential nominee entered the final two months of the presidential contest on virtually equal financial footing as Republican rival John McCain.
NYT: Policies Sound the Same, but Goals Are Different
The economic crisis has snapped voters' attention back to the alternative visions of Senators Barack Obama and John McCain, which sometimes sound the same, but are not.
Washington Post: 'First Dude' Todd Palin Illustrates Alaska's Blend of Private and Public
Todd Palin grew up as the archetypal Alaskan - salmon fisherman, champion snowmobiler, North Slope oil worker. But since his wife became governor 20 months ago, his portfolio has broadened: househusband, babysitter, senior adviser, legislative liaison, and - when the occasion warrants - enforcer and protector.
Washington Post: Steering the McCain Campaign, a Lot of Old Bush Hands
When Gov. Sarah Palin flew home to Alaska for the first time since being named the Republican vice presidential nominee, she brought along at least half a dozen new advisers to conduct briefings, stage-manage her first television interview and help her prepare for a critical debate next month. And virtually every member of the team shared a common credential: years of service to President Bush.
NYT: In Crisis, Paulson's Power Is Magnified
Just over two years ago, Henry M. Paulson Jr. took the job of Treasury secretary, though the post had become so devalued that others had turned it down. He is likely to leave as one of the most powerful of the 74 secretaries in history and to pass those powers on to his successor.
NYT: In Alaska Senator's Trial, Story of Oil and Politics
Ted Stevens and Bill Allen, who will soon confront each other in a federal courtroom here, were once friends of sorts, thrown together at Alaska's busy intersection of politics and oil money.
NYT: Obama Led Opponent in Spending in August
Senator Barack Obama significantly outspent Senator John McCain in August as the two campaigns ramped up their general election fight, with the Obama campaign spending $53 million that month, $32 million of which went to advertising.
NYT: Foreign Banks Hope Bailout Will Be Global
The financial crisis that began in the United States spread to many corners of the globe. Now, the American bailout looks as if it is going global, too, a move that could raise its cost and intensify scrutiny by Congress and critics.
NYT: Radical Shift for Goldman and Morgan
Goldman Sachs and Morgan Stanley, the last big independent investment banks on Wall Street, will transform themselves into bank holding companies subject to far greater regulation, the Federal Reserve said Sunday night, a move that fundamentally reshapes an era of high finance that defined the modern Gilded Age.
NYT: Democrats Set Bailout Conditions as Treasury Chief Rallies Support
Congressional Democrats began to set their own terms on Sunday for a plan to rescue the nation's financial institutions, including greater legislative oversight of the Treasury Department, more direct assistance for homeowners and limits on the pay of top executives whose firms seek help.
NYT: Politico Intends to Expand After Presidential Race Ends
Politico (politico.com) is to announce on Monday that after Election Day, it will add reporters, editors, Web engineers and other employees; expand circulation of its newspaper edition in Washington; and print more often. In the last few weeks, Politico has also quietly begun an experiment in sharing content and ad sales with newspapers.
San Francisco Chronicle: McCain: A profile in courage and adaptation
It was here in Arizona, during John McCain's first run for public office in 1982, that the former Vietnam War prisoner came up with the line that assured his career in public office.
San Francisco Chronicle: Events in Iraq muddle candidates' differences
A year ago, the Iraq war was a sure bet to dominate the 2008 presidential campaign.
NYT: Conservatives Try New Tack on Campuses
Acknowledging that 20 years and millions of dollars spent loudly and bitterly attacking the liberal leanings of American campuses have failed to make much of a dent in the way undergraduates are educated, some conservatives have decided to try a new strategy.
Washington Post: Virginians Giving At Record Pace to Obama, McCain
Virginia's status as a battleground state in the presidential election for the first time in more than four decades has led to a dramatic increase in donations from state residents, especially among Democrats in Northern Virginia.http://
Grand Forks Herald: Hold on! The campaign takes yet another swing
John McCain's rally Friday in Minnesota shows off the changing character of the presidential campaign as effectively as anything. Minnesota is suddenly in play.
USA TODAY: Conservative bent of Utah favors GOP
There aren't many states on a political map redder than Utah. The state's voters gave George W. Bush 71.5% of the vote in 2004, the highest percent in the nation. Four years earlier, they gave Bush 66.8%. That was the third-highest, behind only Wyoming and Idaho.
Subscribe to the CNN=Politics DAILY podcast at http://www.CNNPolitics.com.
And now stay posted on the latest from the campaign trail by downloading the CNN=Politics SCREENSAVER at http://www.CNN.com/situationroom.