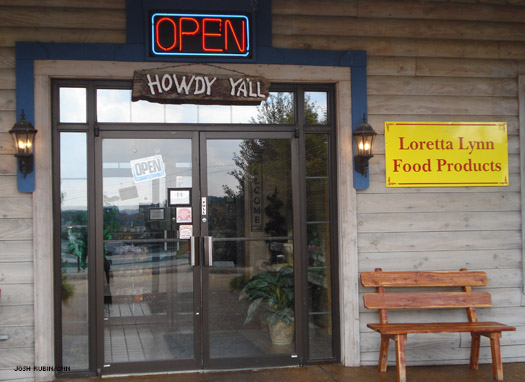 ABOARD THE ELECTION EXPRESS
HURRICANE MILLS, Tennessee (CNN)– As Friday night's first presidential debate approaches, with some television-industry experts predicting that the 90 minutes will garner Super Bowl-level ratings, it is instructive, and more than a little humbling, to step for a moment into the place where we paused for a bite to eat on our way to Mississippi.
This election year is often said to have captured the public's imagination to a degree seldom seen in U.S. history. The nation is reputed to be all but addicted to the campaign and everything about it.
Well. . . .
The country-style restaurant to which we pulled up, one of whose owners is singer Loretta Lynn (she lives nearby), is at the top of a steep hill off the main road. We walked in– Election Express driver Dale Fountain, producer Josh Rubin, engineer Jordan Placie and myself– were seated, and, as has become a habit in recent days, I immediately got back up and started to ask the people who worked there what their customers have been saying about the campaign.
"Nothing," said the cashier, Angela Mayberry, very pleasantly.
I waited for her to expand on that. She did not.
"People don't express an opinion on the candidates?" I asked.
"No," she said, just as pleasantly.
[cnn-photo-caption image=http://i2.cdn.turner.com/cnn/2008/images/09/23/cashwrap.jpg caption="Angela Mayberry"]
In front of her, next to the cash register where the mints should be, were three little baskets of guitar picks for sale: two sets of Elvis Presley picks (one black and one red), one set of Loretta Lynn picks.
"Everyone in the country is talking about the election," I said.
"Not in here, they're not," she said. "I maybe hear someone mention it in passing once a week."
"What do your customers talk about?" I said.
"I guess gas," she said. "The price. How it went up 80 cents at the Pilot truck stop at the bottom of the hill before Hurricane Ike even hit."
In the dining room itself, a young waitress, Lacey Landers, said that her customers "talk about a little bit of everything. Hunting, the Pinks drag races. . . ."
(The Pinks drag races, for the uninitiated, are a television series on the Speed Channel in which contestants race their cars against each other and the winner departs with the loser's car. The series' slogan is: "Lose the race– lose your ride.")
"We had one customer come in after he was in a Pinks race and on his trailer outside he had a '69 Camaro and a '76 Trans Am," she said. Evidently, he had prevailed.
Dale Fountain asked her: "Do any of your customers talk about politics?"
"Not at all," she said.
"Do you have any idea why?" I said.
"Maybe it has something to do with the politicians," she said.
[cnn-photo-caption image=http://i2.cdn.turner.com/cnn/2008/images/09/23/waitress.copy.jpg caption="Tanya McIllwain"]
Another waitress, Tanya McIllwain, walked by, and I asked her if she was hearing talk of the election at her tables.
"No," she said.
Never?
"I'd have to say never," she said. "It's all over television, you know. You'd think people would be talking about it. But I don't hear it."
We said thank you, left to continue our journey to the debate in Oxford, Mississippi, and, on the way down the hill with Dale at the wheel, decided unanimously that we would put the clientele at Loretta Lynn's Country Kitchen in the "undecided" category, at least for now.