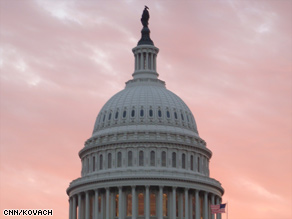 Washington Post: A New Landscape, the Same Proposals
As the scale of the government's intervention transforms the nation's fiscal landscape, neither presidential candidate seemed ready yesterday to readjust his campaign promises to match a changing reality that could push the federal budget deficit next year toward $1 trillion.
CNN: Palin's lawyer meets with independent counsel in probe
Alaska Gov. Sarah Palin's lawyer met Monday with the independent counsel hired by the state to discuss the investigation into Palin's firing of Alaska's public safety commissioner, campaign officials said.
CNN: Florida voting issues raise fears of 2000-like debacle
To pick up the morning paper and see the word "recount" in a headline stirs an ominous case of déjà vu.
CNN RADIO: Palin debuts at UN and did Clinton want VP stripes?
Sarah Palin travels to foreign soil - sort of - and Bill Clinton gives a yes or no answer on whether his wife wanted to be vice president. Lisa Desjardins has today's CNN Political Ticker.
Alaskans angered that Palin is off-limits
Jerry McCutcheon went to Sarah Palin's office here last week to request information about the firing of former Public Safety Commissioner Walt Monegan, the scandal that for weeks has threatened to overshadow the governor's role as Republican presidential candidate John McCain's running mate. McCutcheon was given a phone number in Virginia to call: the national headquarters of the McCain-Palin campaign.
Politico: Candidates likely to skip bailout vote
Congress is poised to vote on the biggest government intervention in the financial markets since the Great Depression, but it's unlikely that any of the three senators vying for the White House will be there – even though all three have talked of little else for over a week.
CNNMoney.com: Small biz credit crunch: In their own words
As banks clamp down on lending, companies are struggling to survive. Entrepreneurs around the U.S. wrote in to tell us how they're weathering the turmoil.
CNN: Bill Clinton says Dems shouldn't attack Palin
Bill Clinton said Monday the Democratic ticket should steer clear of launching personal attacks on Sarah Palin over her relatively thin resume, and instead acknowledge she was a "good choice" for the No. 2 spot on the GOP ticket.
The Ill-Timed Trial of Senator Stevens of Alaska
In a year of mesmerizing political scenes, one of the most remarkable will begin to play out next week just down Constitution Avenue from the Capitol.
Nader: Drawing Votes — From McCain
Ralph Nader thinks he will be a factor in the presidential race again this year, but this time, he says, he is drawing votes from the Republican ticket.
He sparked the wrath of Democrats in 2000, when many said his third-party candidacy cost Al Gore the election.
Politico: McCain's love-hate NYT relationship
John McCain's senior adviser Steve Schmidt slammed the New York Times Monday as nothing more than a partisan rag.
UN leaders to look for reassurance from Bush
World leaders will look to President George W. Bush for reassurance on Tuesday that the US battle to avert a meltdown of financial markets will not divert Washington from the need to tackle a range of other pressing global issues. He took a first step in that direction at the weekend, briefing Hu Jintao, China's president, on action the administration is taking with Congress to stabilise international markets.
Washington Post: Hard Landing for the Golden Parachute
It's about time somebody in this town stood up for the big guy. After 7 1/2 years of drift, President Bush has finally returned to his compassionate conservative roots with a heartfelt plea to Congress to help a needy and deserving group: those Wall Street CEOs who, for all their hard work, have been unable to lift themselves up by their wingtips.
CNN: Fact Check: Does McCain really want to deregulate health care?
In Congress, Sen. John McCain has frequently supported deregulation. Some aspects of that deregulation are now widely blamed for the problems on Wall Street.
NYT: A Scrappy Fighter, McCain Honed His Debating Style in and Out of Politics
Senator John McCain, the Republican presidential nominee, heads into the first debate on Friday with a track record as a scrappy combatant and the instincts of a fighter pilot, prepared to take out his opponent and willing to take risks to do so.
Subscribe to the CNN=Politics DAILY podcast at http://www.CNNPolitics.com.
And now stay posted on the latest from the campaign trail by downloading the CNN=Politics SCREENSAVER at http://www.CNN.com/situationroom.