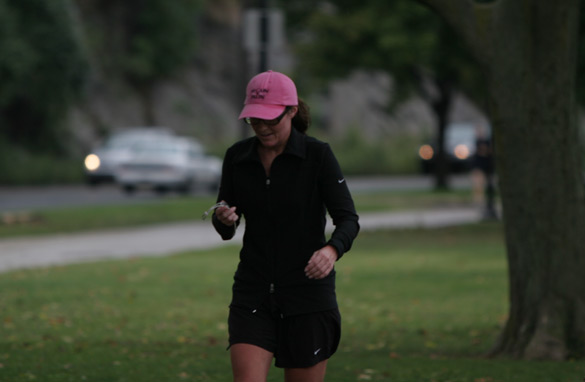 Sarah Palin went jogging in Philadelphia Friday. (Wes Little/CNN)
PHILADELPHIA (CNN) - With the eyes of the political world focused on the legislative drama unfolding in Washington, D.C. and on tonight's presidential debate in Mississippi, Sarah Palin is keeping a low profile in Philadelphia, where she will spend the coming days preparing for her own debate against Sen. Joseph Biden.
After a marathon series of meetings with international heads of state in New York earlier this week, Palin is now holed up in her Philadelphia hotel with a cadre of domestic and foreign policy advisers, studying for next Thursday's vice presidential debate in St. Louis. Her campaign plane, a JetBlue charter, left Palin and her staff behind in Pennsylvania Friday in order to fly John McCain's staffers and press corps to Mississippi.
Palin is expected to make a brief appearance Friday night at a local debate watching party at an Irish pub before returning to her room to watch the much-anticipated face-off between McCain and Barack Obama.
It's not all work for the vice presidential nominee, however. These "down days," as they are known on the campaign trail, have allowed Palin to make time for one of her favorite hobbies – jogging.
Watch: Palin cut from corn
Palin has said she enjoys running cross-country in Alaska because "it thrashes your guts and your lungs and your thighs."
The governor has gone running with her Secret Service agents along the Schuylkill River in Philadelphia for two days in a row, donning a pink "McCain-Palin" baseball cap, a black Nike windbreaker and shorts, and Nike running shoes. She timed each of her runs with a digital wristwatch.
Her workout on Thursday lasted 25 minutes. On Friday, she jogged a path along the river for nearly 40 minutes, with her daughter Willow joining her for part of the run.