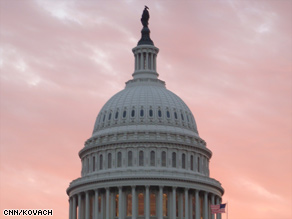 CNN:'Contentious' White House meeting ends with no deal
Sens. John McCain and Barack Obama left a White House meeting, described as at times "contentious," with no apparent financial bailout deal worked out.
Obama, appearing on CNN's "The Situation Room" after the meeting, said there "has to be a sense of urgency on the part of everybody. ... We've got to move rapidly."
LA Times: Obama, McCain aren't worlds apart on foreign policy
Even as they campaign on their differences, John McCain and Barack Obama have been quietly recalibrating their messages on foreign policy in ways that often have moved them closer to the political center - and to each other
NYT: Poll Finds McCain Edge on Security
Heading into the first scheduled presidential debate, Senator John McCain is seen by voters as more capable on national security and more knowledgeable about foreign policy, the focus of the debate, than is Senator Barack Obama, according to the latest New York Times/CBS News poll.
NYT: Obama Team Heads to Debate
Was that Senator John McCain boarding a plane here tonight filled with Obama advisers?
Upon closer inspection, it was only Greg Craig, the man who is playing the role of Mr. McCain. Or, rather, the man who was supposed to spend the evening playing Mr. McCain — until his role was cut and Obama debate camp was disbanded for the night.
NYT: Palin's Parents Helped With 9/11 Recovery Effort
Gov. Sarah Palin visited ground zero today, and said that her parents had come to New York after 9/11 to help with the recovery effort.
Her parents, Chuck and Sally Heath, worked at Fresh Kills landfill in Staten Island in January and February of 2002 as part of a federal Department of Agriculture program.
CNN RADIO: Letterman mouths off and a Kennedy steps up to the plate.
The world watches Washington, but David Letterman isn't very happy about it. And a senator in a legal battle is going to use the Kennedy name. Lisa Desjardins has today's CNN Political Ticker.
NYT: In a Time of Crisis, Is Obama Too Cool?
Where many politicians would have aspired to show anger, Senator Barack Obama spoke in a soft, even tone as he reached the crescendo of his speech Wednesday about government mismanagement of the economy.
Washington Post: Palin Accepted $25,000 in Gifts, Alaska Records Show
Alaska Gov. Sarah Palin, who has made a crackdown on gift-giving to state officials a centerpiece of her ethics reform agenda, has accepted gifts valued at $25,367 from industry executives, municipalities and a cultural center whose board includes officials from some of the largest mining interests in the state, a review of state records shows.
NYT: Dubious Claims in Obama's Ads Against McCain, Despite Vow of Truth
Two weeks ago, Senator Barack Obama's presidential campaign gleefully publicized a spate of news reports about misleading and untruthful statements in the advertisements of his rival, Senator John McCain.
NYT: Bill Clinton's Return Poses a Test of Party Loyalty
In a week when a great financial crisis came to a head and the presidential campaign reached a kind of warp-speed intensity, the man who seemed most likely to be there when you turned on a television was not the president or the treasury secretary or the candidates. It was Bill Clinton.
AP: Palin defends Alaska-Russia foreign policy remark
Republican vice presidential nominee Sarah Palin defended her comment that the proximity of Russia to her home state of Alaska gives her foreign policy experience, explaining in a CBS interview aired Thursday that "we have trade missions back and forth."
AP: Contractor, wife blamed in Stevens corruption case
Sen. Ted Stevens was clueless about the cost and scope of a pricey makeover of his Alaska cabin that led to federal corruption charges and threatened his lengthy career, his lawyer said Thursday at the opening of his trial.