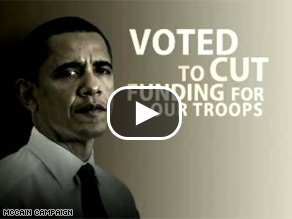 Watch: The McCain campaign released a new ad highlighting Sens. Biden and Obama's difference on troop funding.
(CNN)—In perhaps a sign of what can be expected from next week's vice presidential debate, the McCain campaign released a new ad Saturday highlighting Barack Obama and Joe Biden's differing opinions on funding for troops.
"In the midst of war, Senator Obama voted to cut off funding for our troops," the announcer says. "What did Biden say?"
Watch: The latest McCain ad highlights a difference between Obama and Biden
"They said they voted against the money to make a political point," the 30-second spot shows Joe Biden saying in 2007.
Biden, who is chairman of the Senate's Foreign Relations committee, voted in favor of the troop funding bill last May.
The ad, "Promise," concludes with a familiar line of attack from Friday night's debate in Mississippi, that Obama lacks the experience to be the next commander in chief.
"Barack Obama. Playing politics. Risking lives. Not ready to lead," the announcer says.
The Obama campaign was quick to respond, criticizing McCain for past votes of his own.
"Despite what his increasingly desperate and dishonorable campaign says, John McCain opposed funding for our troops that would have brought them home, while Barack Obama voted against a blank check for George Bush," Obama spokesman Hari Sevugan said in a statement. "So if John McCain wants to talk about funding, he should explain why he voted against life-saving equipment for our troops in battle, voted repeatedly against funding for veterans' health care, and wants to keep spending $10 billion a month in Iraq while the Iraqis have a surplus and our economy is in crisis."
According to the McCain camapaign, the ad will air nationally.