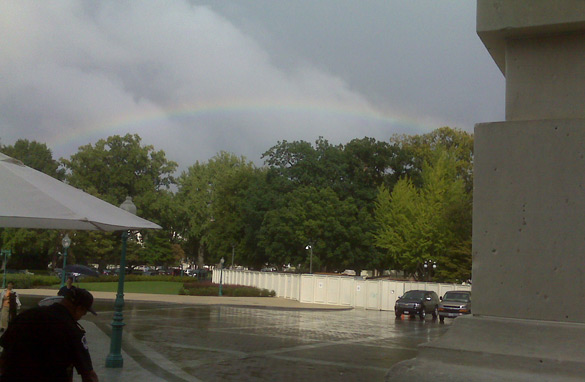 A rainbow appears from the steps of the Capitol.(Eric Marrapodi/CNN)
WASHINGTON (CNN) - The Senate overwhelmingly passed a spending bill Saturday that allows a 26-year ban on offshore oil drilling to expire, subsidizes federal loans for automakers and offers aid to Gulf Coast hurricane disaster victims.
The House already passed the $600 billion stop gap funding bill on Wednesday. The bill, which passed the Senate on a 78-12 vote, will continue government spending at the current level through March 6, 2009.
President Bush is expected to sign the measure.
The end to the ban on oil drilling off the Atlantic and Pacific coasts is a major victory for Republicans. Speeches at the Republican National Convention last month were often interrupted with chants of "Drill, baby, drill."
The ban will be lifted October 1.
Republicans on Capitol Hill have seized on drilling as a major election year issue, citing multiple public opinion polls that show a majority of Americans support more offshore drilling. House Speaker Nancy Pelosi, D-California, had incurred Republican wrath for originally blocking any vote on drilling before allowing a vote on limited drilling earlier this month.
The spending bill includes $25 billion in loan guarantees for U.S. automakers, $23-24 billion in disaster aid for flood and hurricane recovery efforts, $2 billion for Pell grants for student loans and $5.2 billion for low-income energy assistance.
Democrats decided to get a vote on this funding measure out of the way but plan to move an economic stimulus package separately. The stimulus package is still being crafted but would likely include an extension of unemployment benefits, food stamps, aid to states for Medicare and Medicaid and billions for infrastructure programs designed to add more jobs to a slowing economy.
–CNN's Deirdre Walsh contributed to this report.