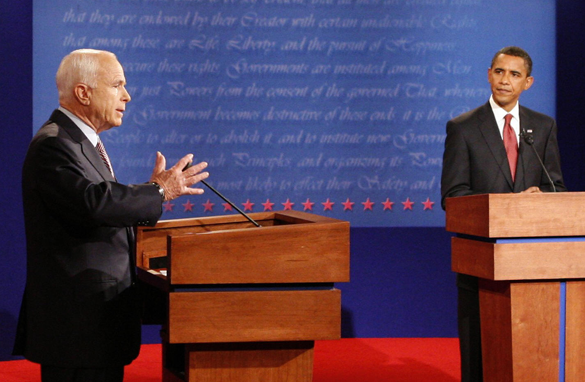 The first presidential debate did little to change the dynamics of the presidential race, new polls show. (Getty Images)
(CNN) - Nearly 60 million Americans tuned in to the first presidential debate between Barack Obama and John McCain last Friday, but national polls released this week suggest the square-off did little to change the dynamics of the race.
The new polls are bad news for McCain, who with only five weeks until Election Day is quickly running out of opportunities to shake up the race for the White House.
In a new CNN poll of polls consisting of surveys conducted entirely after the first presidential debate, Obama holds a 5-point lead over McCain, 48-43 percent. That's exactly where the race stood immediately before the two candidates kicked off the presidential debate season in Oxford, Mississippi, four days ago.
"The ruling on last Friday's presidential debate is in, and it's a split decision," said CNN Senior Political Researcher Alan Silverleib. "The debate changed nothing. Obama's supporters aren't shifting to McCain, McCain's supporters aren't shifting to Obama, and undecided voters are still undecided.
But the poll numbers come even as surveys conducted by several media organizations immediately after the debate showed most viewers thought Obama had won. However the polls also showed the debate viewers appeared to be more Democratic than the overall population.  (Related: CNN analysts grade McCain, Obama debate performances)
"Unfortunately for McCain, a continuation of the status quo favors Obama," Silverleib also said. "The pressure is increasing on McCain to find some way to change the fundamental dynamics of this race. He can't afford to walk away with a tie in the remaining debates."
McCain and Obama next square off October 7 in a debate that features a town-hall format - a set up that McCain favors. VP candidates Sarah Palin and Joe Biden have their only debate on Thursday.