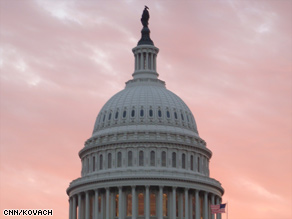 CNN: McCain camp says Obama not leading
John McCain's campaign is seizing on the prepared text of Barack Obama's speech Monday in Denver, saying it shows the Illinois senator has been "out of touch" with the unfolding financial crisis and congress' economic bailout plan.
Washington Post: An Appeal and a Blame Game
Reacting to the House's defeat of a $700 billion economic rescue proposal Monday, Sens. Barack Obama and John McCain called on Congress to pass a new bill and then sought to blame each other for the deadlock on Capitol Hill.
Washington Post: Democrats See the Pros and Cons of Letting Biden Be Biden
Introducing Sen. Barack Obama at a rally in Detroit on Sunday, his running mate did not hold back. "John McCain said he'd follow Osama bin Laden to the gates of hell," said Sen. Joseph R. Biden Jr. "Well, let me tell you something: President Barack Obama will follow him to where he lives and then send him to hell."
NYT: Biden's Debate Prep
Senator Joseph R. Biden Jr., the Democratic vice-presidential nominee, spent most of the day Monday in a hotel suite in Wilmington preparing for Thursday night's debate.
As practice sessions unfolded behind closed doors, top aides tried, not terribly convincingly, to suggest that Mr. Biden – a two-time presidential candidate, 35-year veteran of the Senate and chairman of its foreign affairs committee – is the debate underdog to Alaska Gov. Sarah Palin.
NYT: Concerns About Palin's Readiness as a Big Test Nears
A month after Gov. Sarah Palin joined Senator John McCain's ticket to a burst of excitement and anticipation among Republicans, she heads into a critical debate facing challenges from conservatives about her credentials, signs that her popularity is slipping and evidence that Republicans are worried about how much help she will be for Mr. McCain in November.
NYT: Misleading Claims by McCain on Obama's Tax Plans
One of the sharpest exchanges Friday night in the presidential debate between Senators John McCain and Barack Obama came on the issue of taxes. When Mr. McCain charged that his opponent had "voted in the United States Senate to increase taxes on people who make as low as $42,000 a year," Mr. Obama replied: "That's not true, John. That's not true."
WSJ: How Voter Fury Stopped Bailout
The defeat in Congress of a proposed $700 billion economic-rescue package followed an intense outpouring of voter anger, fanned by politicians, interest groups and media on the left and right, that overwhelmed calls from the president and top lawmakers to pass the deal. Voters opposed to the deal deluged Capitol Hill with letters, emails, phone calls and faxes over the past week
CNN Radio: Palin fires salvo in run-up to VP debate
Life is too short for finger-pointing and Sarah Palin takes a shot at Joe Biden. Lisa Desjardins has today's CNN Radio Political Ticker.
Washington Times: Palins' finances unusual for Alaskans
Alaska Gov. Sarah Palin has introduced her family to the nation as small-town common folk since she burst onto the scene as the surprise pick for the Republican vice-presidential nominee last month. A check of financial records, though, shows the Palins live anything but a common life when compared with their fellow residents of their hometown of Wasilla.
Financial Times: Humiliation for Bush as power wanes
The rejection of the $700bn rescue plan by the House of Representatives is a staggering setback for President George W. Bush and Hank Paulson, Treasury secretary, and leaves their strategy for fighting the credit crisis hanging by a thread.
Both men said they were "disappointed" by the vote, which jeopardises Paulson-led efforts to pivot from firefighting at individual financial institutions to tackling the underlying causes of financial stress.
Washington Post: Stevens Prosecutors Scolded
A federal judge scolded prosecutors yesterday for sending a potentially important witness in the trial of Sen. Ted Stevens back to Alaska, a move that defense lawyers asserted was intended to hide exculpatory evidence
AP: McCain focusing on Iowa despite polls
John McCain's second visit to Iowa in less than a month is heartening Republicans who say it is proof their presidential candidate intends to compete for the state, despite polls showing him behind Democrat Barack Obama.
San Francisco Chronicle: Palin: McCain campaign's end-run around media
The McCain campaign is attempting to do something unheard of in the modern political era. It is not just running against the mainstream media, it is running around it.