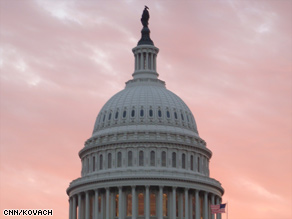 Washington Times: EXCLUSIVE: Pelosi paid husband with PAC funds
House Speaker Nancy Pelosi has directed nearly $100,000 from her political action committee to her husband's real estate and investment firm over the past decade, a practice of paying a spouse with political donations that she voted to ban last year.
CNN: Palin says she's the 'new energy'
Sarah Palin said she was not taking a jab at Joe Biden's age or lengthy stint in Washington when recently joking she had been listening to the Delaware senator's speeches since the second grade.
CNN: House of Representatives' Web site overwhelmed
The servers hosting the Web sites of the House of Representatives and its members have been overwhelmed with millions of e-mails in the past few days, forcing administrators to implement the "digital version of a traffic cop" to handle the overload - for the first time ever.
WSJ: Palin Proved to Be Formidable Foe in Alaska Debates
There are two things people here remember about Sarah Palin's debating style during her race for governor two years ago.
One is the stack of color-coded cue cards she took to the podium for help whenever she was asked a policy question. The other is how quickly she was able to shuck those props, master the thrust-and-parry of jousting with her opponents and inquisitors, and project confidence to an audience of television viewers watching from home.
AP: McCain, Obama call for greater bank security
Presidential candidates Barack Obama and John McCain worked to cool the partisan heat of the financial crisis, with both calling for Congress to regroup and act quickly to prevent a feared financial collapse and foster confidence in the banking system.
NYT: Though an Experienced Debater, Biden Is Often Tripped Up by Spontaneity
With a single-word response, Senator Joseph R. Biden Jr. surprised and amused his listeners in the first Democratic primary debate, in April 2007. He was asked if he could be disciplined on the world stage and restrain his legendary loquaciousness. "Yes," he said.
NYT: Your Campaign Donation: Is It Safe?
With every day seeming to bring a new bank failure, a jittery political donor might very well ask: Where does my campaign keep its millions of dollars in contributions and are they safe?
NYT: Obama: 'I Don't Believe in Coming in Second'
For Senator Barack Obama, the television image of his day on Friday took place on the floor of a glass manufacturing plant in the small Pennsylvania town of Duryea. But by nightfall, he was a world away from that scene, as he arrived here for a pair of high-dollar fund-raisers.
San Francisco Chronicle: Palin says she represents 'Joe Six-pack'
Alaska Gov. Sarah Palin portrayed herself Tuesday as a champion of everyday people while noting her family's stock portfolio took a $20,000 hit last week. "It's time that normal Joe Six-pack American is finally represented in the position of vice presidency," the Republican vice presidential candidate told radio talk show host Hugh Hewitt.
NYT: Bruce, Billy and Barack
The Piano Man and the Boss are putting on a show for Obama.
Billy Joel and Bruce Springsteen will do a benefit concert for Senator Barack Obama's campaign and the Democratic National Committee next month at the Hammerstein Ballroom in New York City on Oct. 16.
WSJ: New Voters Like Obama, But May Not Show up at Polls
This year's flood of newly registered voters heavily favor Sen. Barack Obama in the presidential contest, but they won't necessarily show up to support him on Election Day, a new survey indicates.