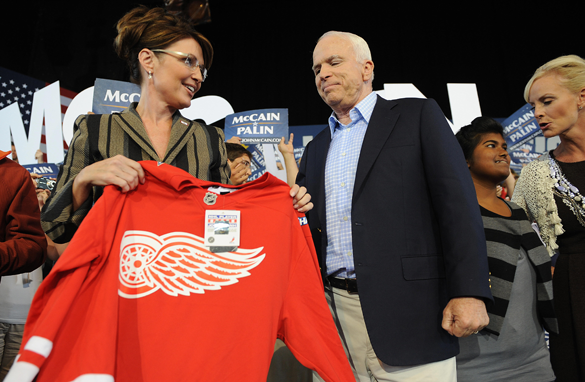 John McCain and Sarah Palin held a joint campaign event in Michigan last month. (Getty Images)
(CNN) - A senior McCain adviser confirms to CNN that the campaign is "shifting resources" from Michigan to Ohio and Pennsylvania, and "opening up an offensive front" in Maine.
Michigan was always a long shot for John McCain, who lost the state to native son Mitt Romney in the Republican primary. A Republican presidential candidate hasn't won there in two decades, since George H.W. Bush's 1988 victory. But McCain had a surprisingly close showing in some polls, and made a significant time investment campaigning in the state this year.
The most recent CNN poll of polls in Michigan shows Obama with an 8 point lead in the state. (View more state polls)
Macomb County - home of the original Reagan Democrats - was one of the first stops for McCain and running mate Sarah Palin on their post-convention tour of battleground states; they held a town hall in Grand Rapids two weeks ago. (McCain lost Macomb County to Romney by more than 20 points)
Local republican officials told CNN they were thrilled to have Palin on the ticket, saying her accent and love for guns made her someone independents and Democrats uncomfortable with Obama could relate to.
But nowhere does the economy loom larger as an issue than in this hard-hit industrial state, suffering from a decade-long slump. The Obama campaign has tried to capitalize on the Democratic nominee's polling advantage on the issue, running ads in the state that accuse McCain of not doing more to protect Michigan jobs. (Related: Obama stumps in Michigan Thursday)
As the campaign pulls resources from Michigan, it is ramping up its efforts in Maine, where Republican Senator Susan Collins is beating national trends in her re-election bid, holding a healthy double-digit lead, along with with a strong organization in the state.
A second McCain aide says that their polling shows that "Michigan isn't even a long shot" - but the campaign is hoping to capture at least one of Maine's 4 electoral votes, which are designated by congressional district. This year, "every electoral vote will count," says the aide.